Using GPA for Comics to lookup pricing
Using GPA for Comics to look up/analyse prices and find available books to buy/bid on.
When you first login to GPA, you'll see a simple "search by title" and "Filter by year" input fields. You'll also see your saved titles here, although this will be empty if this is your first time using GPA.
You can enter a string in the "Search by title" entry field and hit return. A list of titles matching your search will be returned in a list. Example, you can enter "amazing spider man" and hit return, and all titles with those words will be returned.
Almost every title in GPA has a starting year. Including the starting year in your search string, example "spider man 1963" will return a smaller selection of titles. You can also use the "Filter by" input string - if you don't know the year that a title began, but you know it was somewhere in the 60's, entering 1969 here can help you reduce the number of titles returned, especially for characters titles which are very popular.

The titles returned will also include the number of issues we have recorded sales against, as well as a "Save this title" link when you click on a specific title. This will allow you to reveal all issues for this title, as well as add it to your Saved titles for quick access next time you visit Analyse Prices.

Clicking on a specific issue will reveal an additional filter section. You can untick to hide universal, restored and conserved, qualified, or signature series (signed) CGC books. Please note that by default the filter will only have universal books ticked, but can be changed, and persist in your account.
Additionally there's a "Notes" input field - this allows you to enter text you want to see specifically in the analysis page - example, ticking only the "signed" option and entering the words "stan lee" in the Notes field will only show you signature series books were Stan Lee is the signatory.

You can also search via title and comic book number. Everything before the "#" is considered part of the search string and everything after is considered the comic book number. For example:
spider man #10 will look for all titles with the words " spider man" that have an issue #10.
spider man 1963 #10 will look for titles with the words "spider man 1963" that have an issue #10.
When you search for a title and a comic book number the system will return all titles with that number and present them as a grid that can be ordered.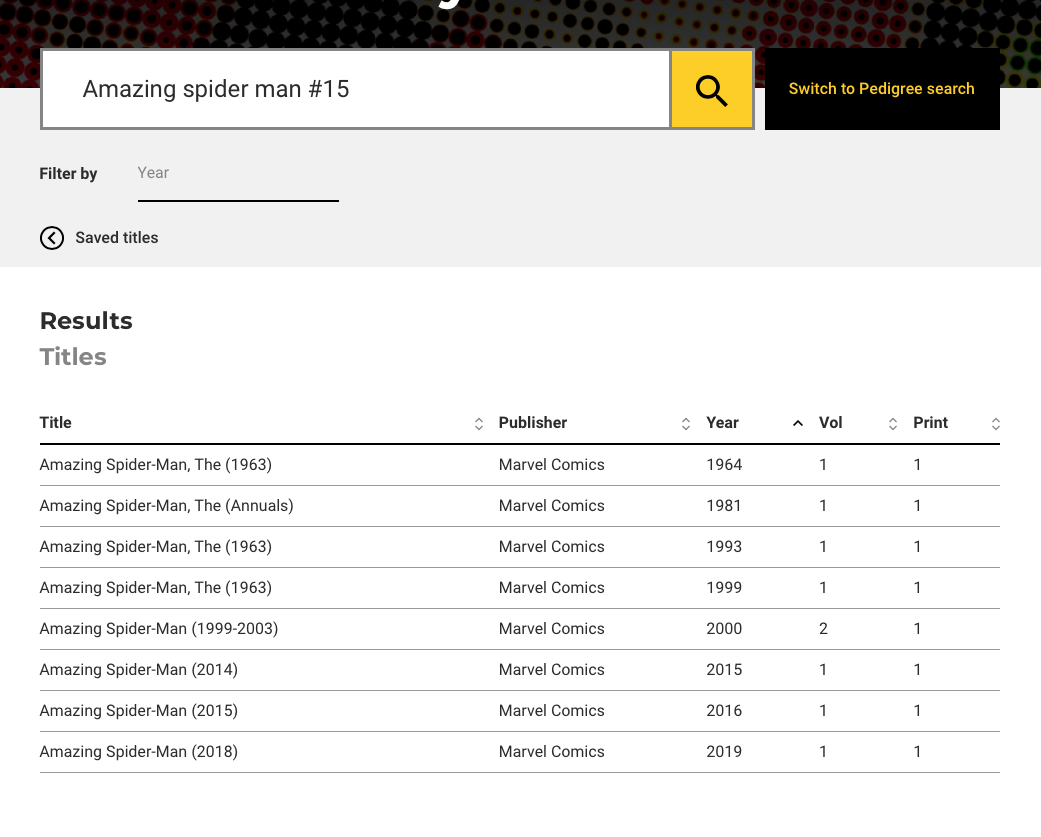 The analysis page shows every grade with a recorded price, grouped by grade, label type and notes. If an issue contains multiple printings or volumes (or publishers) these will be segregated into their own sections.
Above the title/issue section you'll see a link to GCG's census (where available) and a dropdown of all other issues from this title.

There's an additional "Live Listings" tab. This lists all the currently available books from participating partners that you can buy or bid on. If you're hunting for this book, this is a great place to check out what's available. Additionally all Live Listings in GPA can be searched independently of pricing (click here).
At the very bottom of the pricing rows you'll see a section titled "Relists, non-sales, errors" - here we keep track of sales that have fallen through, errors, outliers, etc.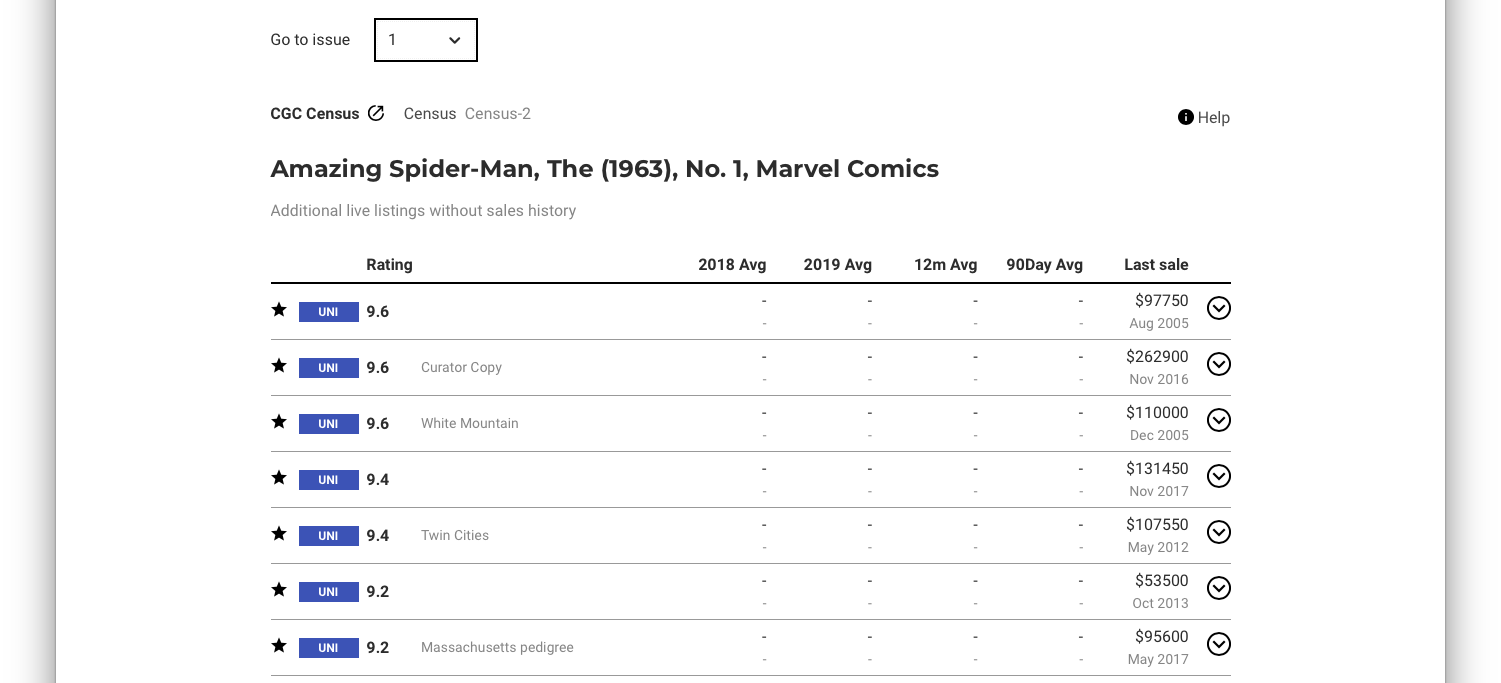 The star icon allows you to add this specific grade to your My Comics section, where you can track this book or add your purchases and get a valuation of your collection.

The arrow icon to the right expands out the grade row for further analysis, or you can simply click on a row. Once expanded you can view a chart plotting historical price and volume, a great way to check out trends. If available for this specific grade, a "Live Listings" row will appear at the top of the chart indicating the number of currently available books from participating dealer and auction sites. You can click on this row to expand out the listings.
Below the chart is a clickable row that shows total books sold for this specific grade and the highest (and lowest) price recorded.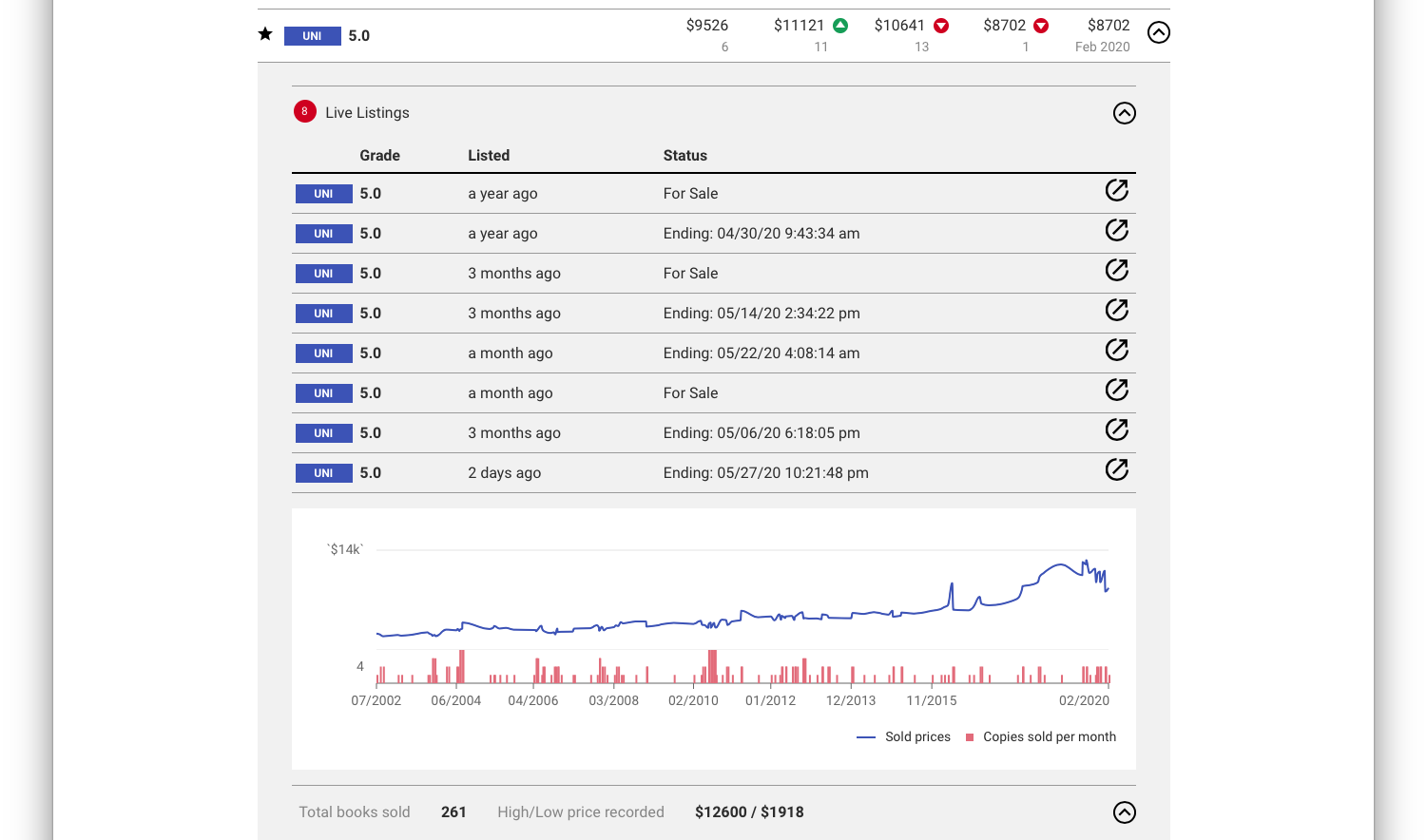 This row is already expanded and shows yearly breakdowns. Each of these can be clicked further to show individual transactions, including the price sold, the certification number (if available) and the page quality (PQ) of books that do not have a certification number recorded (for books published prior to 1980). Some transactions are clickable to take you to participating partner's archived pages. There is also an icon to the right of any book with a certification number that takes you to CGC's website where you can lookup the book's specifics including access grader's notes (requires membership to CGC's website).