CGC-Graded Comics Lead Heritage Auctions' Comics Auction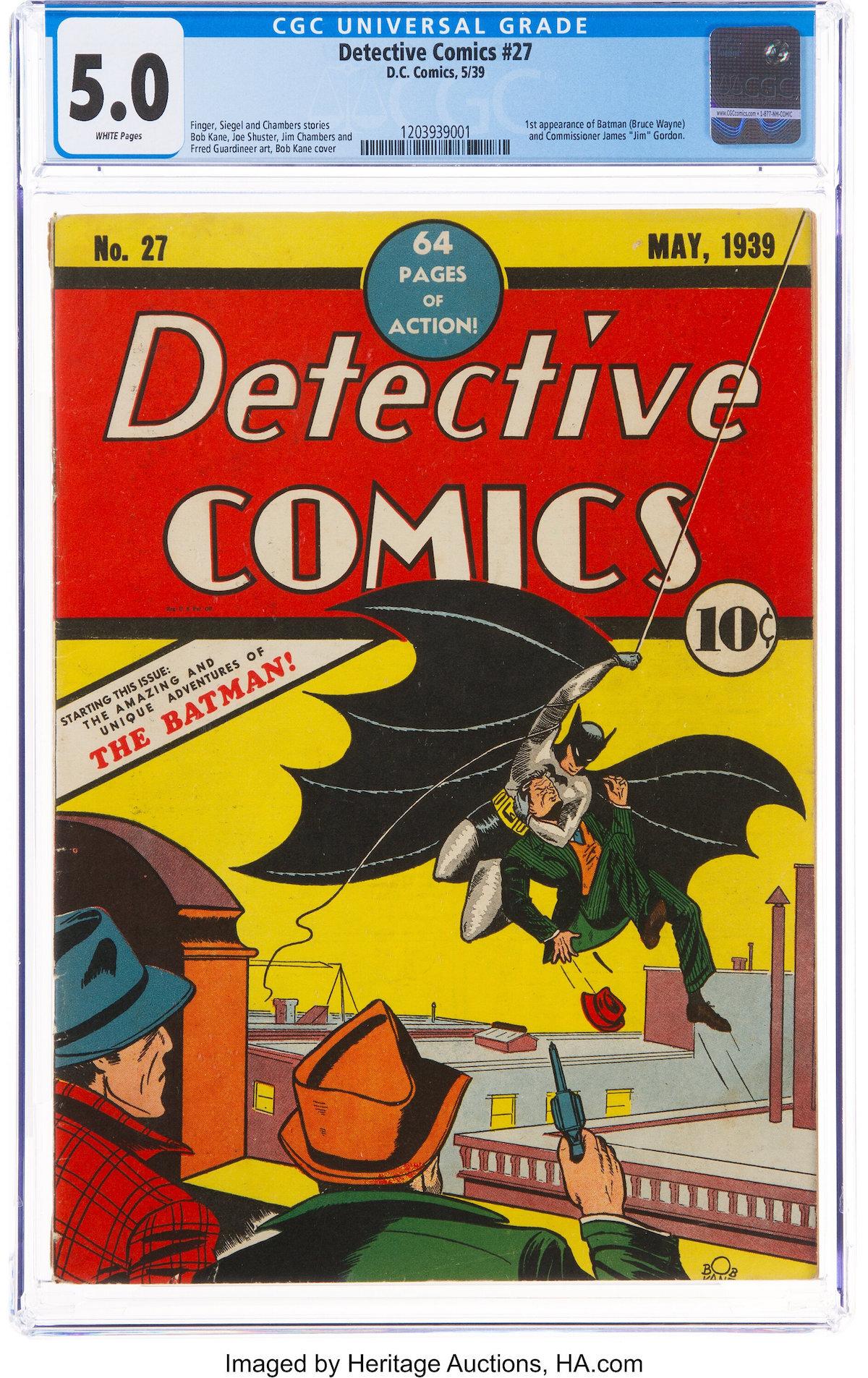 Leading the way was Detective Comics #27 (DC, 1939) CGC VG/FN 5.0 White pages, which soared to $1,125,000. To many, this is the most desirable comic issue of all. The first appearance of The Batman came 11 months after that of Superman, in Action Comics #1, and the two issues have alternately set auction records. A complete Universal label copy like this one is rarely seen – this is just the third in the past nine years! The issue ranks No. 2 on Overstreet's Top 100 Golden Age Comics list. Co-creator Bob Kane provided the cover and contributed story art, as did Joe Shuster and Fred Guardineer. According to the June 2021 CGC census, this copy is one of two graded 5.0, and there are but 17 known to carry higher grades.
Action Comics #1 (DC, 1938) CGC Conserved FN- 5.5 Cream to off-white pages brought 30 bids before it sold for $528,000. Far and away the most valuable comic book ever published, the issue includes the origin and first appearance of Superman, launching the Golden Age of Comics. Joe Shuster provided the cover and story art of the Superman story, while Fred Guardineer and Bernard Baily also contributed interior art.
Comics & Comic Art Auction
https://comics.ha.com/c/auction-home.zx?saleNo=7244
Detective Comics #27 (DC, 1939) CGC VG/FN 5.0 White pages ($1,125,000)
https://comics.ha.com/itm/golden-age-1938-1955-/detective-comics-27-dc-1939-cgc-vg-fn-50-white-pages/p/7244-249002.s
Action Comics #1 ($528,000)
Action Comics #1 (DC, 1938) CGC Conserved FN- 5.5 Cream to off-white pages
Detective Comics #140 The Promise Collection Pedigree (DC, 1948) CGC NM+ 9.6 White pages ($456,000)
https://comics.ha.com/itm/golden-age-1938-1955-/detective-comics-140-the-promise-collection-pedigree-dc-1948-cgc-nm-96-white-pages/a/7244-93065.s
Phantom Lady #17 The Promise Collection Pedigree (Fox Features Syndicate, 1948) CGC NM+ 9.6 Pink pages
https://comics.ha.com/itm/golden-age-1938-1955-/phantom-lady-17-the-promise-collection-pedigree-fox-features-syndicate-1948-cgc-nm-96-pink-pages/a/7244-93123.s
Related news
13 Nov 2021
Bids Begin November 22 in ComicConnect's Event Auction #48
ComicConnect's upcoming auction features an elite selection of investment cornerstone comics including Golden Age greats Superman #1 CGC 7.0, Action Comics #1 CGC 3.0, and Whiz Comics #2(#1) CGC 6.0
Read more
18 Oct 2021
Hake's Nov. 2-3 Premier Auction led by Capt. America hero prop shield screen-used by Chris Evans in 'Avengers: Endgame'
2,465 lots feature vintage comic books & original comic art, Pokémon, Star Wars, early baseball, concert posters and political memorabilia including MLK 14-pg draft letter from Birmingham Jail
Read more