ComicConnect Marketplace Report: Venus #19 Record Sale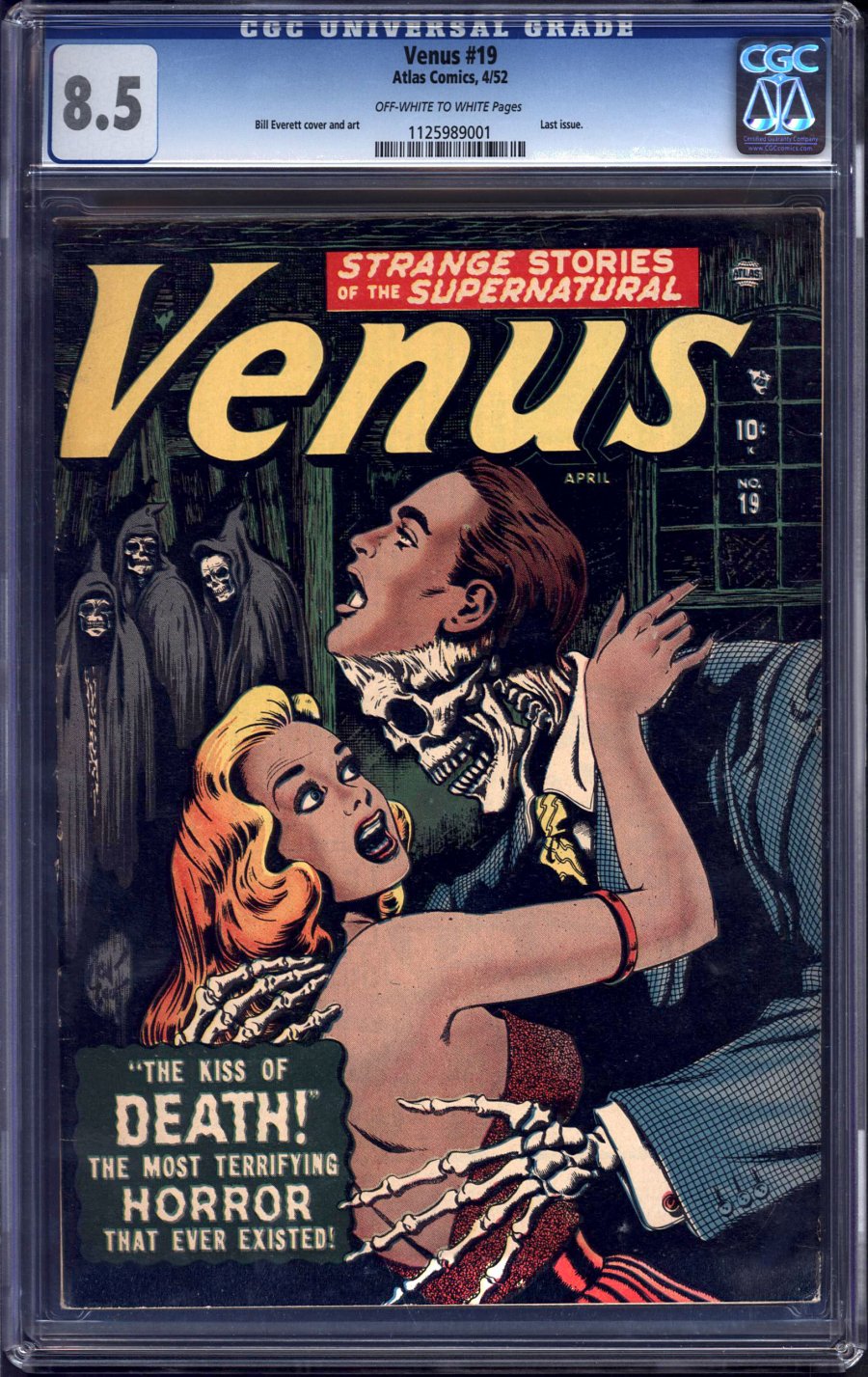 Venus, the Most Beautiful Girl in the World, first hit newsstands in August 1948 with early covers that featured a slew of handsome gentlemen fighting to win the titular heroine's heart. By issue #11, the cover literally depicted "The End of the World!" in an apocalyptic masterpiece. The series came to an end with issue #19 adorned with one of the greatest Bill Everett covers ever crafted. "It's no secret that Bill Everett is one of my favorite artists and Venus #19 is one of my favorite comics," Vincent Zurzolo, co-owner of ComicConnect, explained. "It should be in the dictionary next to the definition of classic cover!"
The comic displays the gruesome tableau of a bride at the altar with her husband's skin flipping back like a Pez dispenser revealing his true skeletal form. ComicConnect sold a copy of Venus #19 CGC 8.5 for a record price of $52,500 in their comic book marketplace. "It was a true pleasure to put the buyer and seller together - they both walked away overjoyed," Zurzolo added. "I'm extremely proud to have been a part of the highest sale price ever recorded for a Venus #19. Stay tuned for more great news for the hobby!"
View thousands more Classic Cover investment comics.
ComicConnect is currently accepting consignments for their next big auction. Consignors are eligible to receive interest-free, no-fee cash advances towards the sale of their collection. The deadline for consignments is April 22, 2021. Call or email ComicConnect's Director of Consignments, Rob Reynolds, at [email protected], or (Toll-Free) 888-779-7377 for immediate assistance.
Related news
10 Sep 2021
Spider-Man's 1962 Debut Sells for $3.6 Million at Heritage Auctions to Become the World's Most Valuable Comic Book
The finest-known copy of Amazing Fantasy No. 15 sold for $3.6 million Thursday morning at Heritage Auctions during the third session of the Sept. 8-12 Comics & Comic Art Signature Auction.
Read more
4 Sep 2021
Cowabunga! ComicConnect Notches New TMNT #1 Record
A highest-graded copy of Teenage Mutant Ninja Turtles #1 CGC 9.8 sold in ComicConnect's fixed price marketplace for a record-pulverizing $245,000
Read more