ComicConnect: Silver and Bronze Investment Picks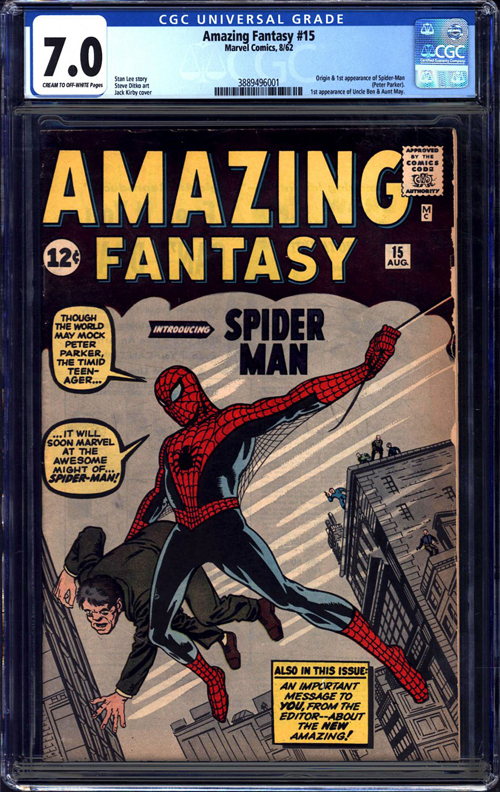 "Event Auction #48 affords numerous ideal opportunities for Silver Age investment collectors to add to their portfolios," explained Vincent Zurzolo, COO, and co-founder of ComicConnect. Starting in 1962, with Fantastic Four #1, Stan Lee, Jack Kirby, Steve Ditko (and the rest) completely changed the way comic books were created with their fresh, realistic take on supers that endeared their characters to generations of readers. A few blocks away in Manhattan, comic stalwart DC, led by editor supreme Julie Schwartz, kept to their tried-and-true formula while entertaining their faithful readers with introducing a multitude of new concepts, heroes, and villains.
Marvel Silver Age investment picks are led by Amazing Fantasy #15 CGC 7.0, CGC 5.5 & CGC 3.5, X-Men #1 CGC 9.0, Incredible Hulk #1 CGC 8.0 and CGC 5.5, Fantastic Four #5 CGC 6.5, and Silver Surfer #1 CGC 9.6.
More can't miss Marvels: Amazing Spider-Man #1 CGC 7.0, X-Men #12 CGC 9.4, X-Men #50 CGC 9.8, Daredevil #1 CGC 8.0, Defenders #1 CGC 9.8, Tales of Suspense #39 CGC 4.0, and Journey into Mystery #83 CGC 4.5.
DC highlights include Showcase #4 CGC 7.5, Justice League of America #21 CGC 9.8, Brave and the Bold #34 CGC 9.4, and Adventure Comics #247 CGC 7.5.
"Bronze Age creators took the material their Silver Age progenitors provided and crafted some of the most classic covers, stories and art readers have ever enjoyed while either imagining or re-imagining characters that are household names today," Zurzolo added.
Bronze Age blue chips: X-Men #94 CGC 9.8, Incredible Hulk #181 CGC 9.6, Giant Size X-Men #1 CGC 9.8, and Amazing Spider-Man #129 CGC 9.6.
The auction ends next week, Monday, December 13, 2021 – Saturday, December 18, 2021.
For additional information on how ComicConnect auctions work, please click here. ComicConnect consignors may opt for interest-free, no-fee cash advances towards the sale of their collections. Call or email ComicConnect's Director of Consignments, Rob Reynolds, at [email protected], or (Toll Free) 888-779-7377 for immediate assistance with their collection.
Related news
11 Jun 2022
A Superman Auction For the Superfan Takes Flight at Heritage July 7
Milt Rosenberg's historic collection spans eight decades of Superman merchandising, from fan-club rings to Krypto-Rayguns
Read more
28 May 2022
CGC-Graded Comics Lead Heritage Auctions Comics & Comic Art Signature® Auction June 16-19
Most of the top comic books – including the top 73 by pre-auction estimates – in Heritage Auctions' Comics & Comic Art Signature® Auction June 16-19 boast CGC grades.
Read more