Cowabunga! ComicConnect Notches New TMNT #1 Record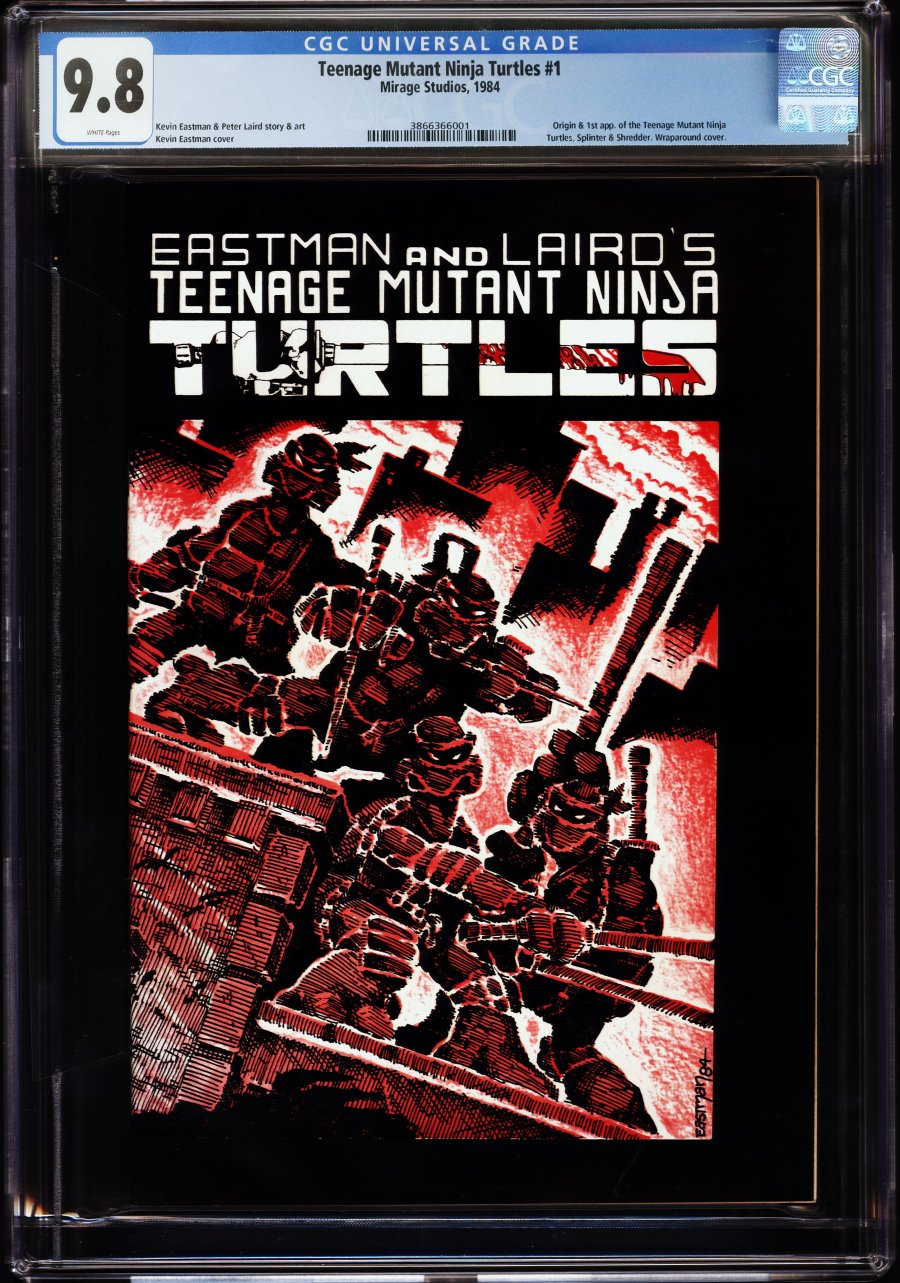 A highest-graded copy of Teenage Mutant Ninja Turtles #1 CGC 9.8 sold in ComicConnect's fixed price marketplace for a record-pulverizing $245,000. Published in 1984 originally as a parody of Frank Miller's Ronin, the X-Men, and a splash of Teen Titans, the comic features the first appearance of the Turtles, their Master, Splinter, and the teen team's arch-nemesis, Shredder.
"This is the most important comic published in the last forty years and stands as a keystone of pop culture today," explained Vincent Zurzolo, COO of ComicConnect. "The creators transformed what was an inside joke into a media juggernaut and merchandising machine with scores of comic titles and team-ups, movies, tv shows, spin-offs, re-boots and sequels. Eastman and Laird created a property that three generations of fans have grown to love, and the turtle teens aren't going anywhere" Zurzolo remarked. "I fully expect this new record to be broken in a short time," he said. "And I have the clients to do just that."
In ComicConnect's current Event Auction, they are offering two first print copies, a CGC 9.6 as well as a CGC 9.2 that boasts Eastman and Laird signatures on the inside front cover. The auction ends Friday, September 3 at 7:45 PM EDT.
Zurzolo said that ComicConnect is looking for more copies of Teenage Mutant Ninja Turtles #1. "I'd like to talk to you about any copy you have, in any grade" Zurzolo said. "Folks are lining up for this book and now is a great time to set a new record; there just aren't enough copies to go around!"
Call (888)779-7377 to discuss consigning a copy of Teenage Mutant Ninja Turtles #1 or any other comic. Ask for their Director of Consignments, Rob Reynolds, or email him directly at [email protected]. Their next deadline is September 30.
Related news
10 Sep 2021
Spider-Man's 1962 Debut Sells for $3.6 Million at Heritage Auctions to Become the World's Most Valuable Comic Book
The finest-known copy of Amazing Fantasy No. 15 sold for $3.6 million Thursday morning at Heritage Auctions during the third session of the Sept. 8-12 Comics & Comic Art Signature Auction.
Read more
4 Sep 2021
Cowabunga! ComicConnect Notches New TMNT #1 Record
A highest-graded copy of Teenage Mutant Ninja Turtles #1 CGC 9.8 sold in ComicConnect's fixed price marketplace for a record-pulverizing $245,000
Read more