Jackpot! Historic Archie Comics Collection Sure to Put a 'Pep' in Your Step Comes to Heritage Auctions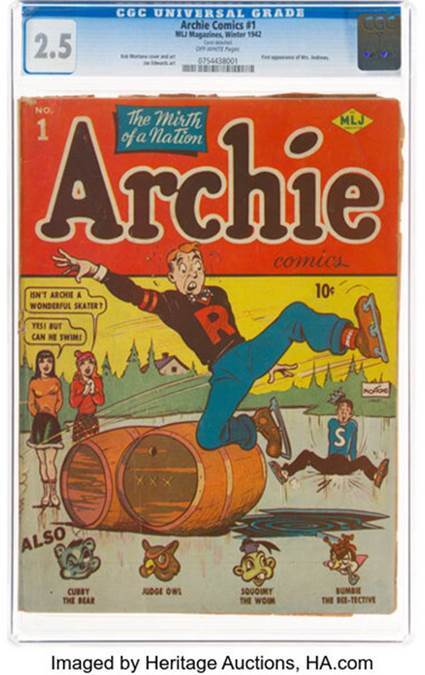 DALLAS, Texas (May 27, 2021) – When he was a teenager in the 1970s, Kyle Hall collected Archie comics and nothing else, and only those featuring the kids of Riverdale. Which sounds simple enough. Except, no, it was far more difficult than anyone might imagine.
For decades Archie titles were seldom considered collectible, especially among the superhero set that dismissed titles starring Archie and Jughead and Betty and Veronica as little-kids' stuff. The super-powered adventures of caped crusaders and mystery men were meant to be stored in plastic sleeves with backing boards then placed with great care in long cardboard boxes kept in climate-controlled closets. Archie books, on the other hand, were handed down from big brother to kid sister, pawed at and clawed at, read and re-read until the pages faded and the covers fell off.
"They were always drawn on or destroyed," Hall says. "It has always been hard to find Archie titles that aren't …" A pause. "Well-thumbed."
And yet Hall managed to find and collect and read them all, somehow and some way, dating back to the days when he was a junior-high student in Tyler, Tex. With money given to him by his parents, Hall dug for them at comic conventions in nearby Dallas, where Archie books were kept under dealer tables like illicit product; or from mail-order catalogs that sold Golden Age superhero books for thousands and World War II-era Archie titles for pennies on the dollar. And in time he would amass one of the world's best collections of books starring Archibald Andrews, Jughead Jones, Betty Cooper, Veronica Lodge and the rest of the Riverdale gang.
For the very first time that assemblage, dubbed The Riverdale Collection, heads to auction beginning June 17-19, with some extremely historic titles among the centerpiece offerings in Heritage Auctions' all-star spectacular Comics & Comic Art Signature event. Over the next several months Heritage will sell the entirety of Hall's collection, which features more than 3,000 issues and more than a dozen works of original art.
"It's time to move these along to the next collectors," says Hall, partner in an independent bookstore in Dallas. "I want to make sure they make their way to somebody who values them as much as I have."
And they certainly are titles to treasure, beginning at the very beginning: 1941's Pep Comics No. 22, graded CBCS GD/VG 3.0, which features on its cover the once-and-current superhero called The Shield but contains inside the very first appearance of Archie Andrews, credited to artist Bob Montana and writer Vic Bloom. At the time Archie was a toothy show-off who preferred to be called Chick and looked more like the future Alfred E. Neuman. Hall remembers this being a Christmas gift from his parents in 1978, bought from a catalog for $400 – a steal for one of the hardest-to-find comics of the Golden Age that introduced readers to Jughead, Betty, Mr. Weatherbee and Mr. Andrews.
Here, too, is Archie's second appearance – in Jackpot Comics No. 4, another 1941 title and the boy's first time on a cover, alongside Steel Sterling, Black Hood, Mr. Justice and other heroes time has forgotten. Hall's copy is graded CGC GD 2.0; yet so rare is Jackpot No. 4 that there are fewer than two dozen copies known to be in better condition.
And, of course, Hall's assemblage includes yet another exceptionally rare title but an absolutely essential one for the completist: 1942's Archie No. 1, graded CGC GD+ 2.5, among the most difficult-to-find titles in all of Golden Age comicdom in any grade. It sits at No. 20 on Overstreet's list of Top 100 Golden Age Comics; Gerber's Photo-Journal Guide to Comics rates it a "7" – or "scarce" – on their Scarcity Index.
"Kyle's collection is so impressive to me because of the sheer number of hours he must have put into acquiring every single issue of these long, long runs," says Heritage Auctions Vice President Lon Allen. "The stamina it must have taken to dig through literally thousands of boxes in those pre-internet days! I'm honored that Kyle chose Heritage to showcase his lifelong collecting passion."
In fact, Hall collected throughout the 1970s and into the early 1980s, when he moved to Dallas to study at Southern Methodist University. He stopped for a bit, only to return to fill in some blanks – and to catch up with old friends whose looks changed over the years as Montana's characters landed in the hands of artist Don DeCarlo.
"I loved those books. And I read them, every single one, even those 1940s copies of Pep," Hall says. "Archies were just never talked of as terribly valuable books. And to be an Archie collector back then was to be a nerd among the nerds." He laughs. "But they spoke to me, maybe because I was a teenager and they were teenagers.
"It was also clear that the 1960s and '70s character depictions did not quite align with the 1940s or '50s characters," Hall says of the books he continued stacking in his collection. "It was fascinating to me as a kid – really, a reason I sought the older issues. I loved the character development, even though it was clear that the writers would throw it out in a heartbeat if they had a different idea six months later."
In auctions throughout coming months, Heritage will offer the entirety of Hall's collection. That includes landmark titles featuring the debut appearances of household names, some created by DeCarlo, among them Sabrina the Teen-Age Which (who bowed in Archie's Madhouse No. 22), Josie (Archie's Pals 'n' Gals No. 23), the Pussycats (Josie No. 45) … and even Elvis, who made what is believed to be his comic-book bow in Jughead's Folly No. 1.
"This is what I loved about the Archie comics: There wasn't a trend or a fad or a development they didn't address or exploit in those comics," Hall says of his long love affair with books adults too often took for granted until they were turned into prime-time network shows. "They were lessons in pop culture: They made fun of movie stars, politics. There's a lot going on there aside from the love triangle of Archie and the girls or Jughead and his hamburgers."
Heritage Auctions is the largest fine art and collectibles auction house founded in the United States, and the world's largest collectibles auctioneer. Heritage maintains offices in New York, Dallas, Beverly Hills, San Francisco, Chicago, Palm Beach, London, Paris, Geneva, Amsterdam and Hong Kong.
Heritage also enjoys the highest Online traffic and dollar volume of any auction house on earth (source: SimilarWeb and Hiscox Report). The Internet's most popular auction-house website, HA.com, has more than 1,400,000 registered bidder-members and searchable free archives of five million past auction records with prices realized, descriptions and enlargeable photos. Reproduction rights routinely granted to media for photo credit.
For breaking stories, follow us: HA.com/Facebook and HA.com/Twitter. Link to this release or view prior press releases.
Hi-Res images available:
Robert Wilonsky, Communications Director 214-409-1887; [email protected]
Related news
11 Jun 2022
A Superman Auction For the Superfan Takes Flight at Heritage July 7
Milt Rosenberg's historic collection spans eight decades of Superman merchandising, from fan-club rings to Krypto-Rayguns
Read more
28 May 2022
CGC-Graded Comics Lead Heritage Auctions Comics & Comic Art Signature® Auction June 16-19
Most of the top comic books – including the top 73 by pre-auction estimates – in Heritage Auctions' Comics & Comic Art Signature® Auction June 16-19 boast CGC grades.
Read more