Rare X-Men #1 Comic Shatters Record Price at Auction … and the Bidding Isn't Over Yet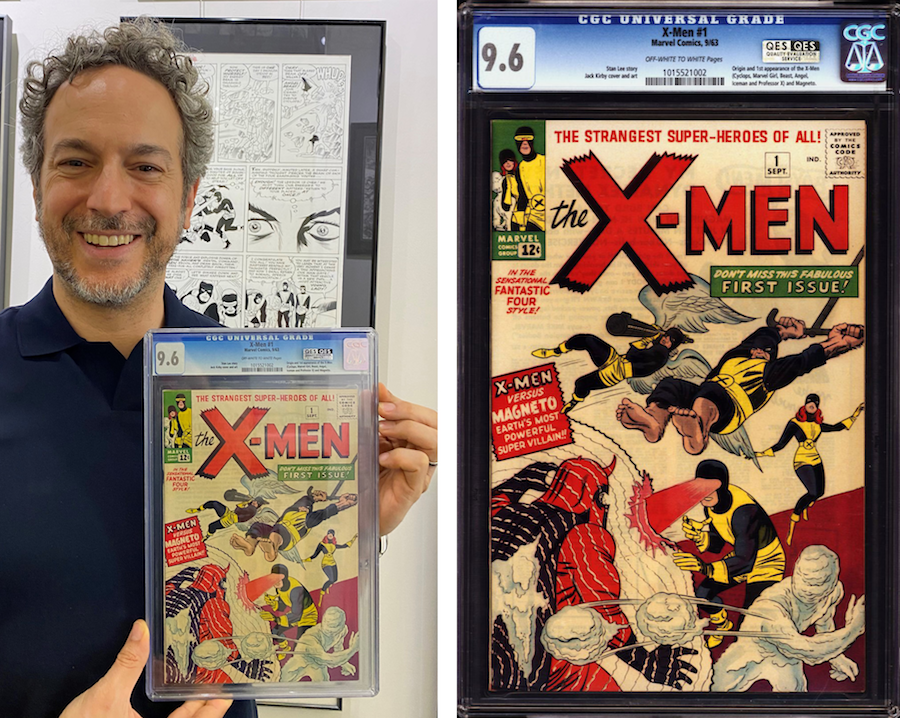 A 9.6 or near-mint copy of the X-Men #1 comic has set an all-time bidding record in the current ComicConnect Event auction of over 2,000 pieces of original art and video games, with days yet to go before the auction closes on June 24.
"As of this moment, the high bid sits at nearly $700,000, including the buyer's premium," notes Vincent Zurzolo, COO of ComicConnect.com, the online auction house conducting the auction.
"Interestingly, this same 9.6-graded book last traded hands for $250,000 in July, 2013—yet another indication that Silver Age comic values are soaring."
X-Men #1 features the first appearance of Professor X, plus the teenage mutant superheroes Cyclops, Iceman, Angel, Beast and Marvel Girl, as well as the supervillain Magneto. It was published in 1963—the heart of the Silver Age of Comics, 1956-1970.
As ultra-rare Golden Age (1935-1945) collectibles become harder to come by, investors are increasingly drawn to Silver Age comics. And Hollywood has discovered them, too—a key factor here.
"The consignor's decision to sell was made easy for him by the recent massive increases in X-Men prices," explains Zurzolo.
"He loves the comic, but the values on X-Men #1 have all but doubled over the last year. A savvy businessman, he had a hunch that Disney would get the rights to X-Men back—and he was right."
X-Men was originally published by Marvel Comics, which sold the rights to the characters to 20th Century Fox in the late 1990s. In 2009, Disney acquired Marvel Entertainment—and, then in 2019, 20th Century Fox, bringing the franchise full circle.
Since X-Men have returned to the fold, fans have been eager to learn how Marvel Studio president Kevin Feige will introduce the mutant team on the big screen.
"Everyone can relate to the feeling of being an outsider," says Zurzolo, "That's part of the X-Men's timeless appeal. Learning tolerance, appreciation and acceptance for those who may be different from us is another great lesson that was as important in 1963 as it is today."
Zurzolo recently arranged another record-breaking Silver Age sale, brokering the purchase of a 1962 Amazing Fantasy #15—Spider-Man's first appearance—for $1,050,000. The 9.4-graded comic was last purchased in 2016 for $454,000.
It marked yet another record-breaking transaction for ComicConnect and its sister company, Metropolis Comics, which hold six Guinness World Records.
Vintage comics have always been rock-solid investments, but since the pandemic began, values have been rising.
"Many collectors see this moment as their last shot to get an X-Men #1 before the next price jump," says Zurzolo.
In fact, ComicConnect currently has four additional X-Men #1 copies—with gradings from 4.5-8.5—up for auction.
But the big question is: just how much will the 9.6 copy—one of the finest in existence—ultimately sell for?
"I'm as eager to know as everyone else," says Zurzolo. "Check back on June 25."
Related news
11 Jun 2022
A Superman Auction For the Superfan Takes Flight at Heritage July 7
Milt Rosenberg's historic collection spans eight decades of Superman merchandising, from fan-club rings to Krypto-Rayguns
Read more
28 May 2022
CGC-Graded Comics Lead Heritage Auctions Comics & Comic Art Signature® Auction June 16-19
Most of the top comic books – including the top 73 by pre-auction estimates – in Heritage Auctions' Comics & Comic Art Signature® Auction June 16-19 boast CGC grades.
Read more