Slabbing Comics - CGC Census Retrospective - The First Two Years
Comic book grading and encapsulation by third-party companies followed identical practices in coin and sportscard collecting, which started years earlier. Coin grading with encapsulation ("slabbing") began in the mid-1980s, and encapsulated sportscard grading began in the early 1990s.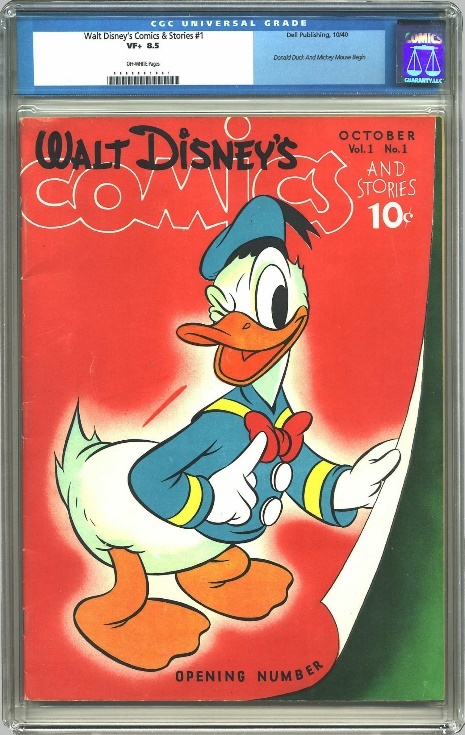 The first CGC graded comic book was Walt Disney Comics & Stories #1 (Dell Publishing, 1940) – CGC Serial #0000001001 (Invoice 0000001, Item 001), originally graded November 9, 1999. CGC opened to the public on January 1, 2000, bringing the "slab" concept from coins and cards to the comic book market.
YOU CAN'T READ A SLABBED COMIC BOOK
The first, and most often repeated, argument against "slabbing" a comic book was that "you can't read a slabbed comic book." That's TRUE - but you also can't spend a slabbed coin in a vending machine. It's also FALSE - because slabs can be opened by anyone, and the items can be removed. While both a coin and a comic book might be dated 1938 and clearly marked with an original value of ten cents, they can also be worth more than $250,000 each in today's market. The original value and original purposes (coin spending and comic reading) become less important to collectors of those items than preserving the item's condition – whether slabbed or not. Other dimes have no collector value and spend the same as a 1938 version, while reprints of comic books (or low-grade reader copies of originals) provide the ability to read another copy of the same comic without opening the slab.
Another way of saying "you can't read a slabbed comic book" is to say that "comics are meant to be read". Comics were also meant to be thrown away after reading, and coins were meant to be spent for face value. The arguments against slabbing are basically the same as the arguments against collecting. Stamps are meant to be mailed and postmarked, postcards are meant to be inscribed and personalized, toys and video games are meant to be opened and played – and these types of complaints against collecting hold little weight with most collectors.
Because all slabs can be opened, even those who absolutely must read a $250,000 comic book or handle a $250,000 coin aren't breaking any laws (real or imagined) when they do so. They would be breaking the encapsulation, however, which moves the collectible from a third-party graded and encapsulated item back into its "raw" condition with the potential for changes in condition to the item itself. That "breaking the seal" is not exactly the same as "driving a new car off the dealer's lot", but the comparison may be applicable when it comes to the next sale and the confidence the next buyer may place in the condition (or if you try to take it back to the dealer who sold it to you).
GOING BACK TO THE BEGINNING
The first CGC Census data available for evaluation is from July 1, 2001. At that time, CGC had been open to the public for eighteen months. In the first CGC census, 77,363 comic books had been graded, which gives a very rough estimate of 50,000 comic books graded in the first year of CGC's history, or about 1,000 comics per week.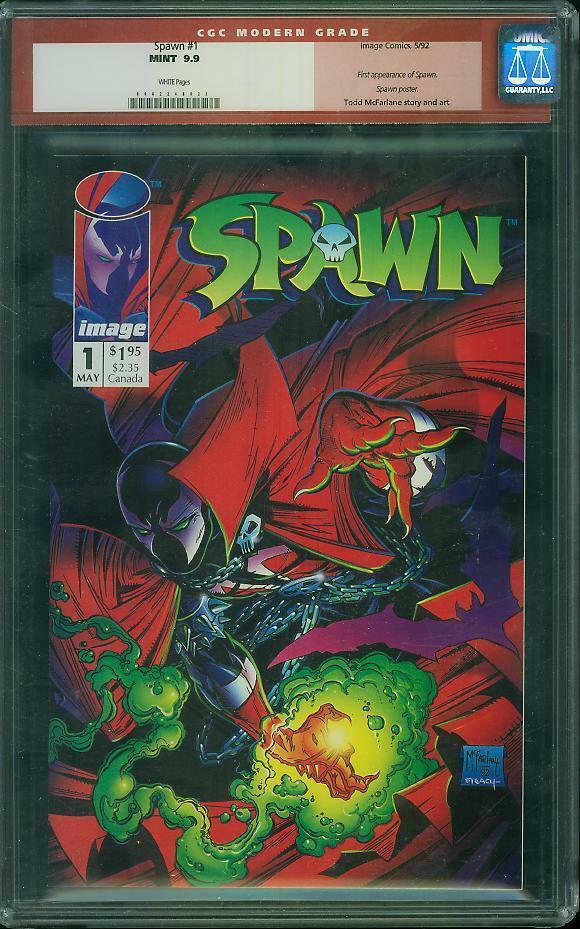 The most submitted comic book as of July 2001, was Spawn #1 (Image Comics, 1992) with 726 copies graded, or just under 1% of all CGC slabs at that time. Next was Wolverine Limited Series #1 (Marvel Comics, 1982), followed by Incredible Hulk #181 (1974) and Giant-Size X-Men #1 (1975), completing the list of comic books with at least 500 CGC graded copies in the first CGC Census. The CGC red "modern" label (small grade) was used until August 2001 and is equivalent to the blue Universal CGC label.
The first CGC Census – July 2001 – Top Submissions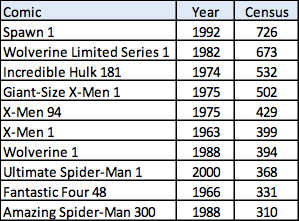 THE FIRST 100,000 CGC SLABS
The second CGC Census was dated January 27, 2002, and the total number of CGC submissions had risen to 122,244. Not only were the first 100,000 CGC slabs recorded, the second CGC Census provided an opportunity to isolate the six months of CGC submissions between July 2001 and January 2002. About 45,000 books were CGC graded between July 2001 and January 2002, and the approximately 1,000 comics graded per week in the first eighteen months of CGC had risen to approximately 1,500 copies per week by the start of 2002.
The second CGC Census – January 2002
Once again, Spawn #1 had the most total submissions to CGC with 1,024 copies graded and was the only book with more than 1,000 copies graded as of January 2002, but Wolverine: The Origin #1 (released in September 2001) had 929 submissions between July 2001 and January 2002, making it the most-submitted book in the timeframe.
Dividing the second CGC Census into the publishing decades of the comic books, shows the counts by decade, percentage of the CGC Census attributed to each decade, the number of submissions between July 2001 and January 2002, and the percent change in that six month timeframe for the first 100,000 (or more specifically, the first 122,224) CGC slabs.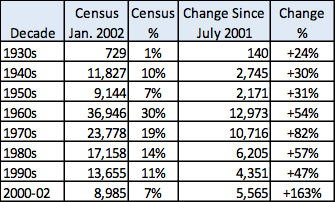 More than 5% of the submissions to CGC in the first eighteen months were very recent comic books published from 1999-2001, rising to 7% by January 2002. Additionally, just above 5% of the submissions were variants, as defined by CGC, where variant type detail is listed on the CGC label beyond the series title and issue number. Examples of variant indicators on the January 2002 CGC Census include "Variant Cover", "Dynamic Forces Edition", "Silver Edition", "Gold Edition", "Wizard Special Edition", and "Special Collectors Edition".
THEN AND NOW
The Top 10 Most Submitted books to CGC during the first two months of 2021 currently includes five books printed since 2018. The current #1 book submitted for 2021 is TMNT: The Last Ronin #1 (2020), echoing a similar popularity 20 years ago for Wolverine: The Origin #1 (2001). Spawn remains in the Top 10 twenty years later, and the #10 most submitted book as of January 2002, Amazing Spider-Man #300, is both #1 overall for the past twenty years, and #2 during 2021 so far.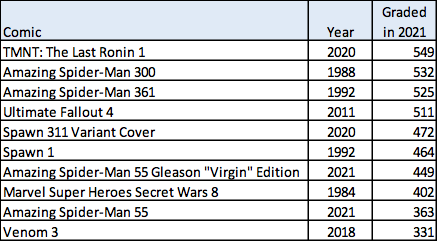 One obvious difference between the first 100,000 CGC graded comics by January 2002 and the most recent 100,000 CGC graded comics by February 2021 would be that the most recent CGC census includes comic books printed since 2002, and six of these ten for 2021 were not in existence in 2002. Eliminating any comic book that was not published by January 2002, the most recent CGC submissions have been led by Amazing Spider-Man #300 (1988) with Spawn #1 (1992) – the most popular in January 2002 – still in the third position during 2021 behind Amazing Spider-Man #361 (1992) in second.
Looking back to the Top 10 CGC Most Submitted books as of January 2002 with the number of submissions for those books thus far in 2021 provides a snapshot of how much things have changed.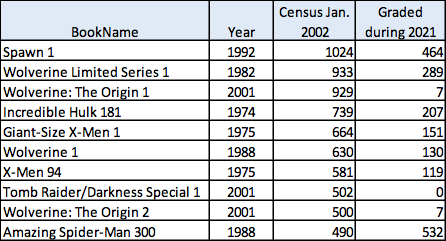 One possible observation from this analysis would be that comic books which are graded in large quantities soon after publication may have few or no submissions two decades later, and long-lasting demand may be impossible to know in the first year(s) after a comic's publication. Wolverine: The Origin #1 (2001) was the third most submitted comic book overall during the first two years of CGC's existence and has almost no new submissions to CGC twenty years later. The two other books printed in 2001 which were in the Top 10 in 2002 are also gone or almost gone from 2021 submissions. Where will TMNT: The Last Ronin #1 rank in future CGC submissions?
On the other hand, books which were which were popular submissions in the beginning of CGC grading are still popular submissions to CGC twenty-years later, provided they were already at least ten years old in 2002. Ultimate Fallout #4 (2011) has reached its tenth year since publication and appears to be ready to join Amazing Spider-Man #300 and Spawn #1 with long-lasting demand for grading by CGC.
Returning to the comic book that started it all, the first CGC graded comic book was recently re-encapsulated by CGC in late 2020, and now sits in the latest slab design while retaining the original serial number.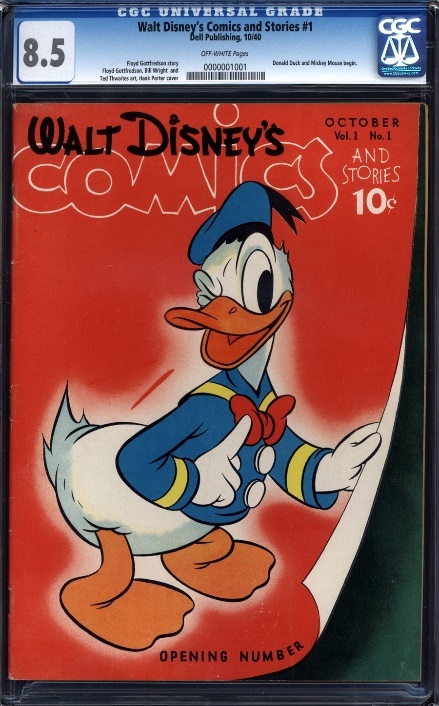 It is probably appropriate that the book CGC graded first shows the turning of a page. Twenty years later, in its newer style of CGC holder, perhaps the same book signifies another turning of the page for the comic book industry.
About the Author
| | |
| --- | --- |
| | Greg Holland has collected comic books for over 30 years and has been the administrator of the CGC Census Analysis website since 2003, currently located at CGCdata.com. He is the 1999 founder of the ValiantComics.com website and the 2004 ValiantFans.com message board. Dr. Holland holds a Ph.D. in information quality from the University of Arkansas at Little Rock and has held data science positions as research director, analyst, and administrator for government, corporations, and university. Active on the CGC Forums as 'valiantman' since 2002, he is also a 15+ year advisor to the Overstreet Comic Book Price Guide and contributor to later editions of the Standard Catalog of Comic Books. Greg resides in Arkansas, USA, with his wife of 23 years and their daughter. |
Related news
24 Oct 2022
Canadian Price Variants (CPVs) and GPAnalysis.com Recorded Sales
With Canadian Price Variants recorded in GPAnalysis.com for decades, what can the data tell us about rarity and value when comparing against direct editions?
Read more
26 May 2022
CGC Census - A Game for the Thousandth Collector
Imagine a game where 1,000 lucky comic collectors are awarded the best available copies of comic books from the CGC Census. Where would ticket #1,000 be for the earliest appearances of favorite characters? Some winning books may surprise you.
Read more