Collecting by Date - What is a Birthday Comic?
Many comic collectors associate comic books with particular dates in their lives. In message boards and social media, users may post a photo of a "birthday comic" with a caption reading, "from the month I was born." Using the CGC Census data, it is possible to identify the most often submitted comic book to CGC for each month and year for almost 90 years. More than 1,000 months are included in that timeframe, allowing for the identification of not only every birthday comic, but also anniversaries, graduation dates, other important birthdays, and any other event which might be remembered by its date.
History afficionados might be interested which comic is the most submitted to CGC for dates such as Pearl Harbor (December 1941), D-Day (June 1944), President Kennedy's assassination (November 1963), the moon landing (July 1969), or even 9/11 (September 2001). Comic books often portray these types of major events within their stories, but those portrayals are printed months or years later, rather than reflecting the comic books which were already on sale the day of the event.
More than 1,000 different comic books are listed below, one for each month and year between 1934 and 2021. Some key issues and popular submissions are not associated with a specific month and year, such as Wonder Woman #1, which is dated as Summer 1942.
1930s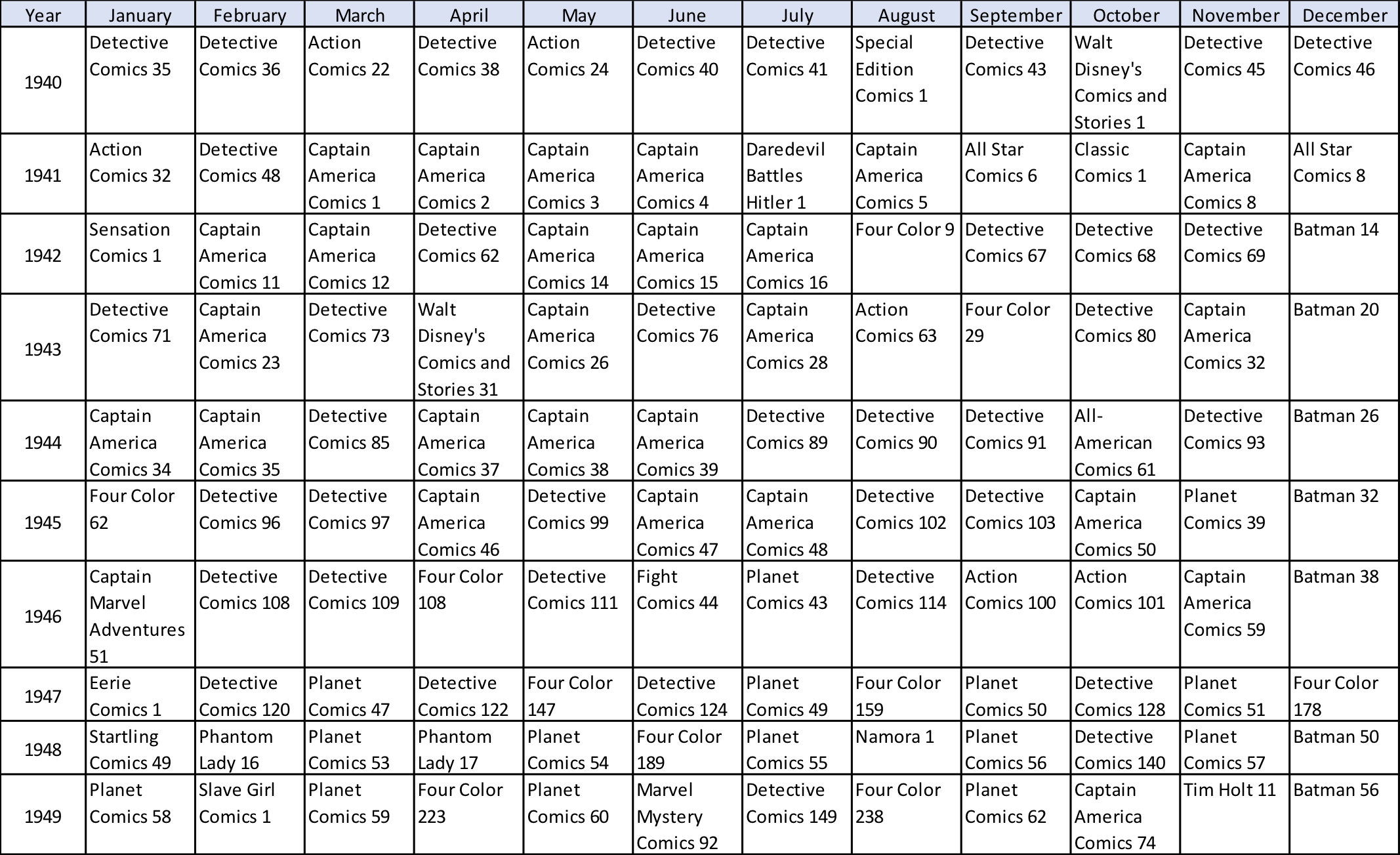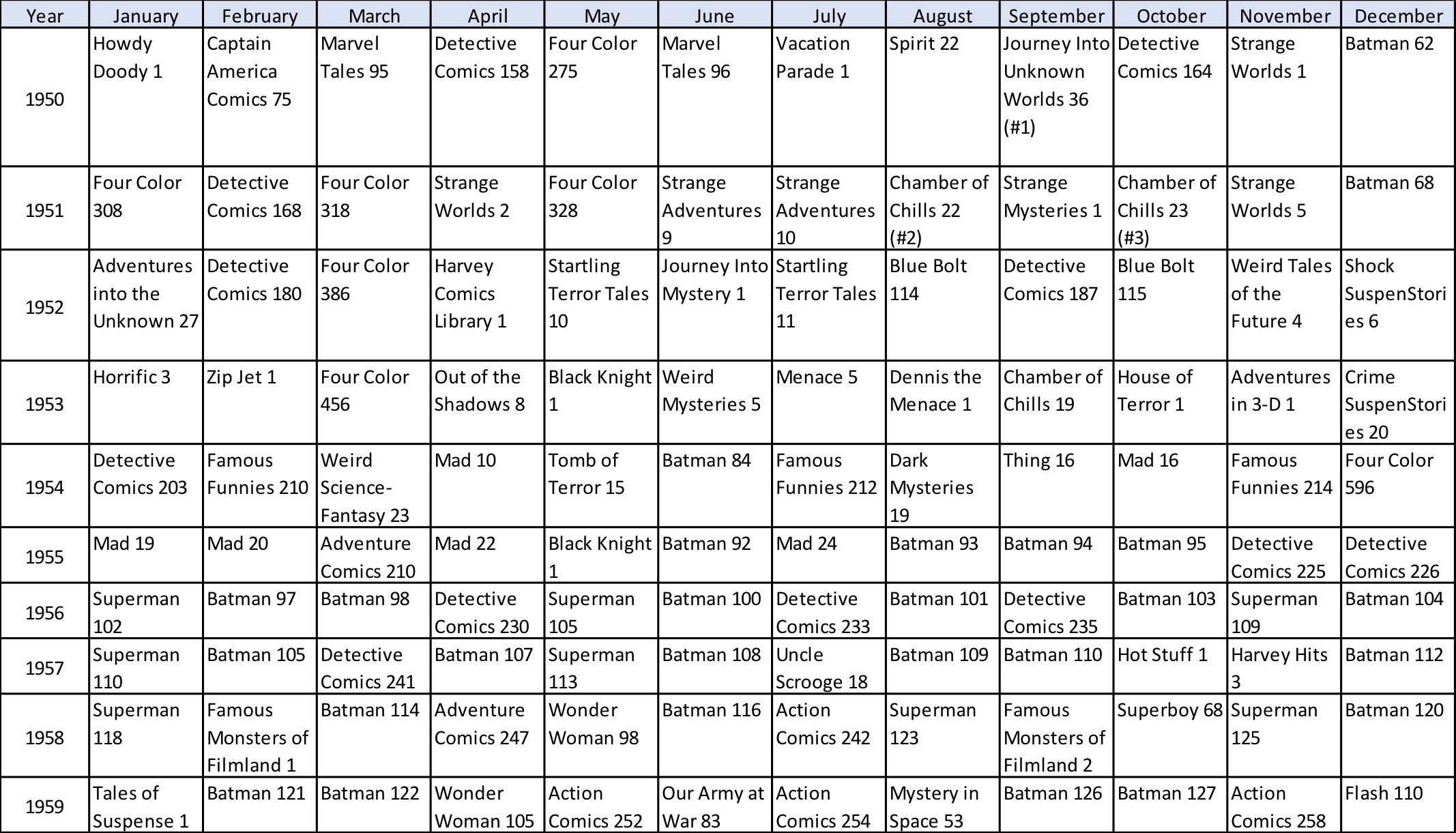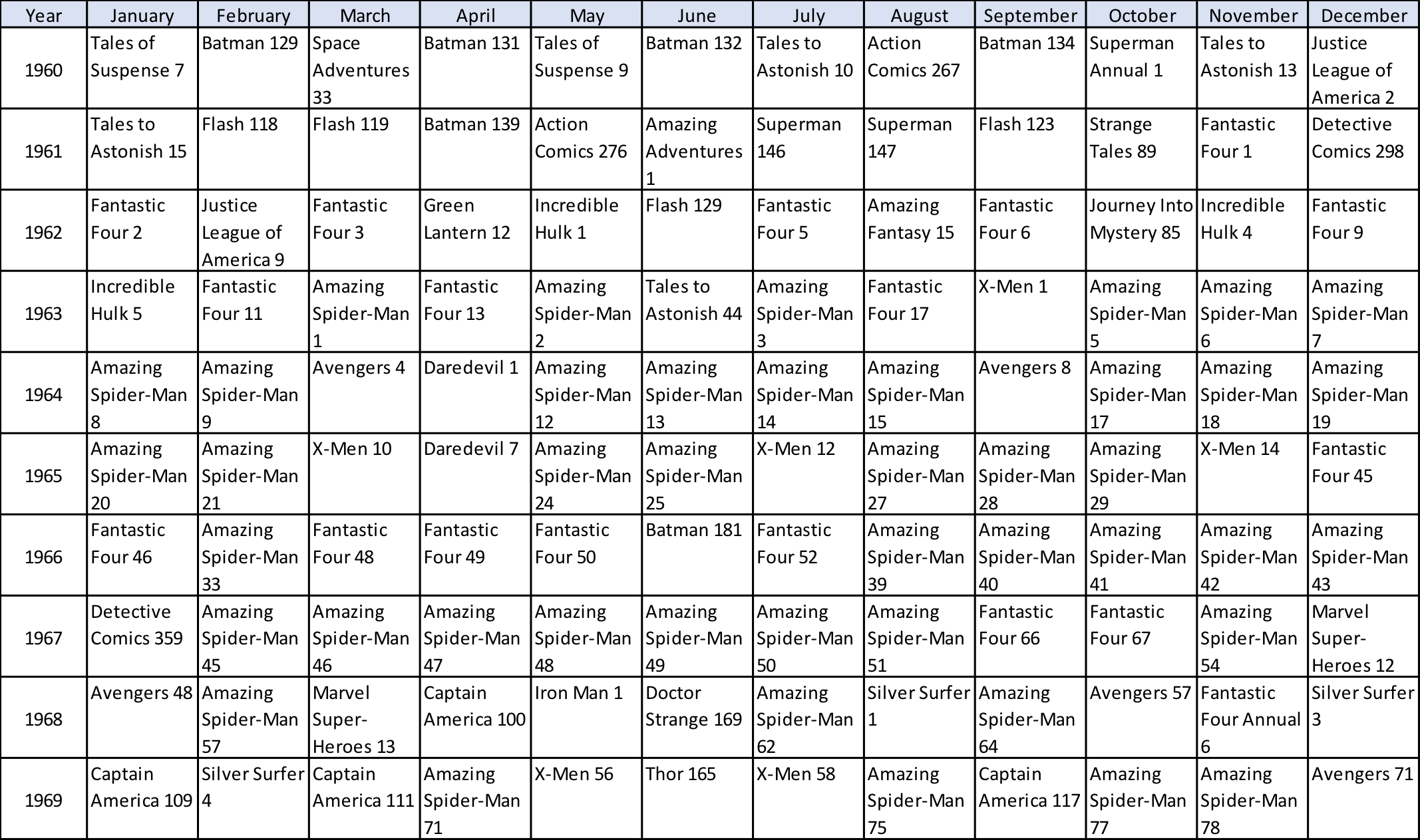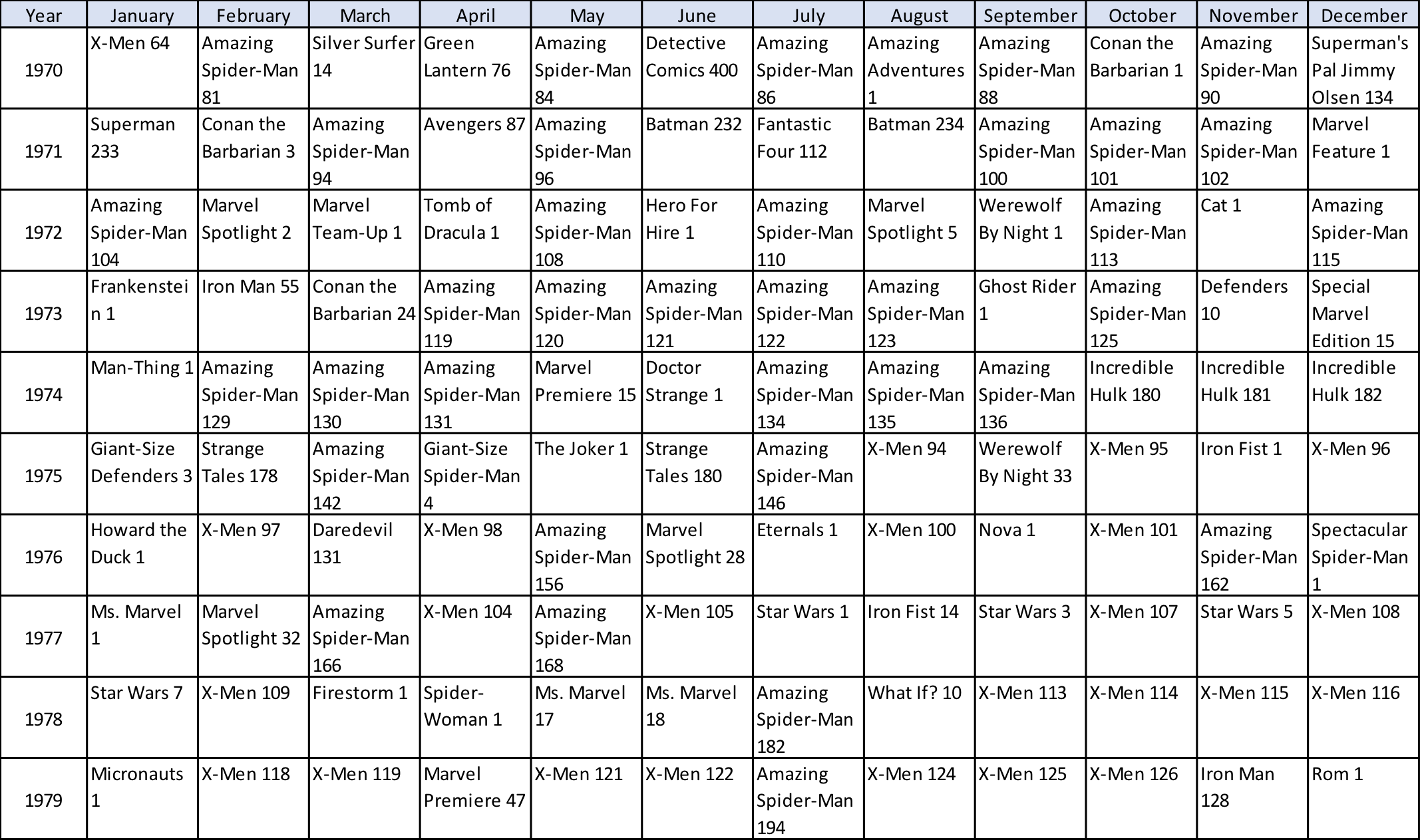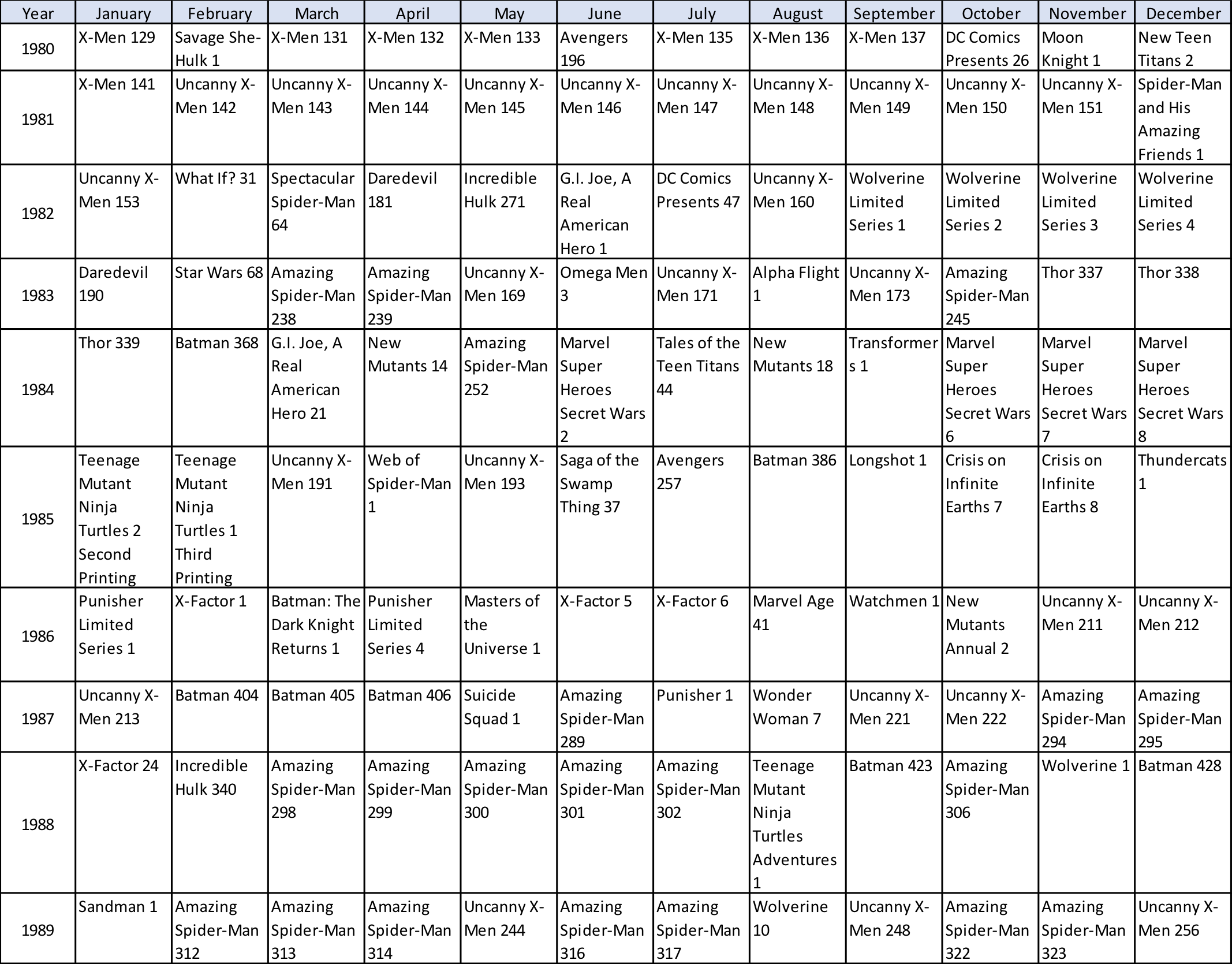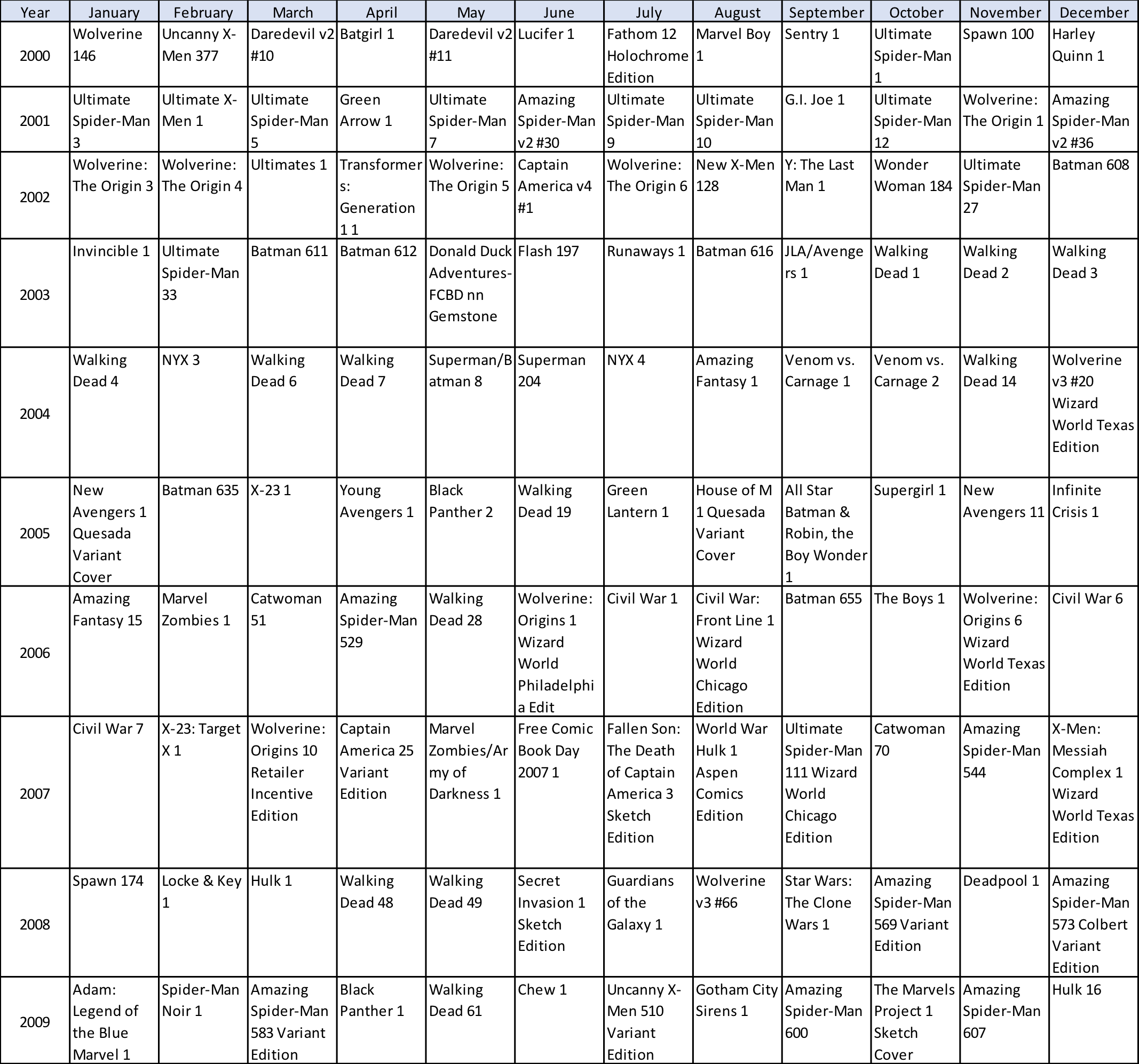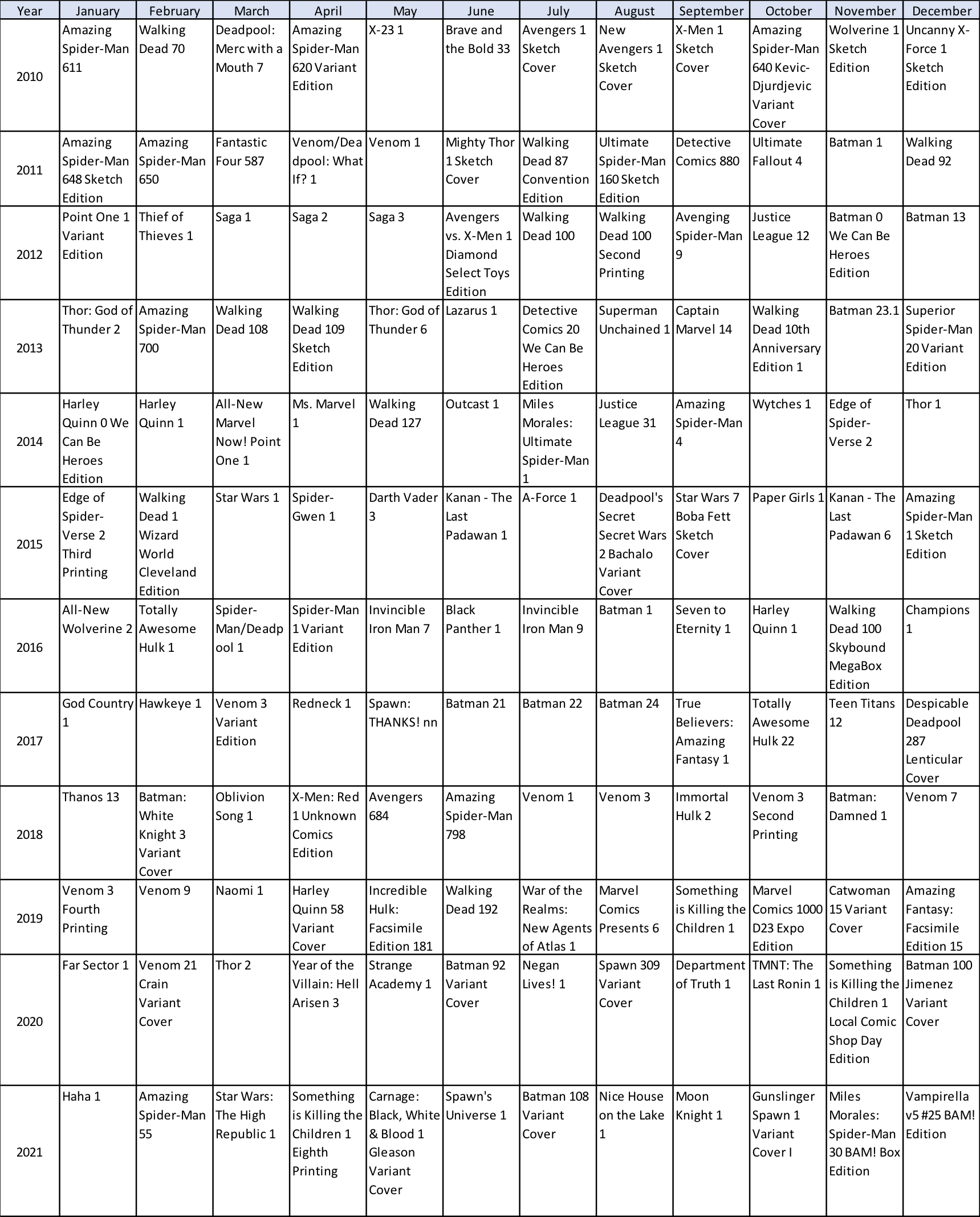 The issues most submitted to CGC for each month and year reflect the CGC Census of January 18, 2022. It is likely that these results will change in the future, particularly for recent years. The popularity of submissions for comic books may reflect first appearances from renewed or ongoing series, media attention for movies or streaming, or an increase in market value for common issues which may not have been worth the cost of CGC grading in the past. With over 20 years of CGC grading completed, most of the year and month representative issues are likely established for many years to come. Why not build a small collection of comics which are chosen for their date, rather than their market value, key issue status, or their CGC grade? My birthday comic is X-Men #98 from April 1976. What's yours?
About the Author
| | |
| --- | --- |
| | Greg Holland has collected comic books for over 30 years and has been the administrator of the CGC Census Analysis website since 2003, currently located at CGCdata.com. He is the 1999 founder of the ValiantComics.com website and the 2004 ValiantFans.com message board. Dr. Holland holds a Ph.D. in information quality from the University of Arkansas at Little Rock and has held data science positions as research director, analyst, and administrator for government, corporations, and university. Active on the CGC Forums as 'valiantman' since 2002, he is also a 15+ year advisor to the Overstreet Comic Book Price Guide and contributor to later editions of the Standard Catalog of Comic Books. Greg resides in Arkansas, USA, with his wife and their daughter. |
Related news
24 Oct 2022
Canadian Price Variants (CPVs) and GPAnalysis.com Recorded Sales
With Canadian Price Variants recorded in GPAnalysis.com for decades, what can the data tell us about rarity and value when comparing against direct editions?
Read more
26 May 2022
CGC Census - A Game for the Thousandth Collector
Imagine a game where 1,000 lucky comic collectors are awarded the best available copies of comic books from the CGC Census. Where would ticket #1,000 be for the earliest appearances of favorite characters? Some winning books may surprise you.
Read more