ComicConnect Event Auction #50 Underway!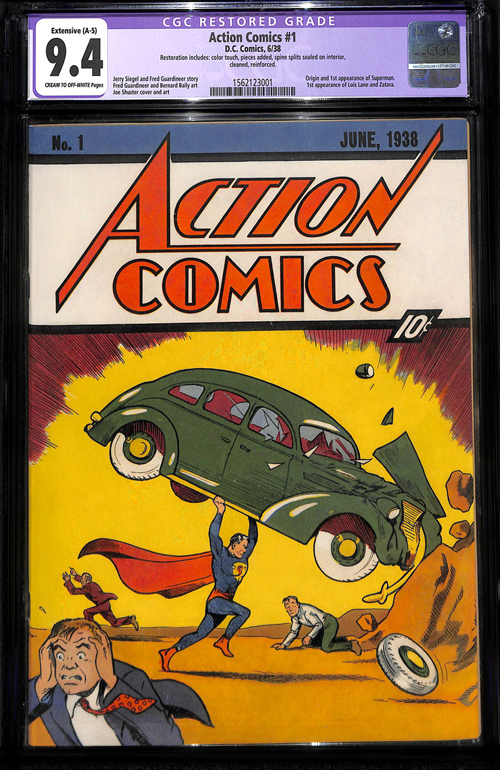 "Wow! Just when you guess the market can't get any bigger, it goes ahead and amazes buyers and sellers alike with record after record set and smashed," Vincent Zurzolo, co-founder of ComicConnect began. "Bidding in Event Auction #50 is underway, and a stunning copy of Superman #1 CGC 4.0 is, potentially, our next million-dollar comic on the block. With last second consignments of a a Batman #1 CGC 4.5 and a restored copy of Action Comics #1 CGC 9.4, and, I wish the very best to every investment collectible bidder."
Zurzolo added that Event Auction #50 has a vast selection of Golden, Silver, Bronze, and Modern Age comics, original comic art, pulps, memorabilia, video games, and certified video tapes.
Some of the most desirable comic lots in the auction:
If you dig Frank Miller art, check out the first-ever published cover art for Ronin and Dark Knight Returns from Comics Interview #2 and #31 (predating both series). Bidders will find an Avengers #66 splash of the Vision by Barry Smith, a classic Mike Zeck Captain America #284 cover, John Byrne on Marvel Team-Up #68's cover, two super rare Hernandez Brothers lots from Love and Rockets, John Romita's house ad cover for Son of Origins, and a Rich Buckler Amazing Spider-Man #279 cover.
Plus, more cool finds like a certified copy of the original Star Wars (VHS) IGS 9.0 and a Back to the Future (Beta) IGS 8.0, video games like Super Mario 64 (N64) WATA 8.0, and M.U.S.C.L.E. (NES) WATA 6.0, and an August, 1928 copy of Amazing Stories with the first appearance of Buck Rogers.
Collectors will find more pulps, more original art, more video games, more video tapes, and over 2,900 more lots. For consignors wishing to add items to ComicConnect's next Event Auction, reach out to their Director of Consignments, Rob Reynolds at (888) 779-7377 or email him a list at [email protected]
Related news
13 Sep 2022
Nearly 2,200 Lots Over Three Days, All Items Start At $9.99!
Hake's Auctions' newest online exclusive auction opens for bidding Wednesday, September 7, 2022. Closing dates are September 20-22, 2022.
Read more
27 Aug 2022
CGC-Graded Comics Lead Heritage Auctions Comics & Comic Art Signature® Auction September 8-11
Most of the top comic books – including the top 50 by pre-auction estimates – in Heritage Auctions' Comics & Comic Art Signature® Auction September 8-11 boast CGC grades.
Read more