ComicConnect Event Auction #52 Starts November 21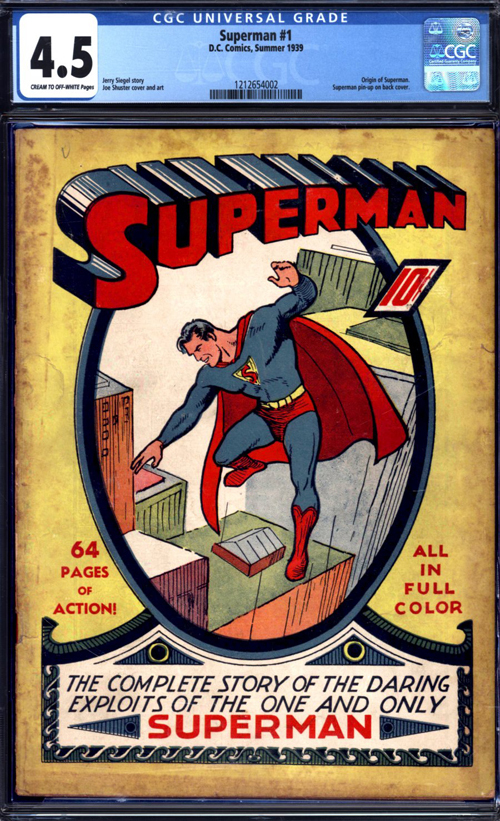 "Our last Event Auction was a huge success having topped $8 million in winning bids!" exclaimed ComicConnect's President, Vincent Zurzolo. "From our team here at ComicConnect, we'd like to say thank you to every bidder and consignor who was a part of it."
Event Auction #52, starting this coming Monday November 21, has thousands of comics and unique collectibles up for bid. For starters, keys like Superman #1 4.5, Marvel Comics #1 2.5, Sensation Comics #1 8.5, and an Amazing Fantasy #15 6.5 are some of the best comics Zurzolo pointed out.
"There is so much more to go after with vintage horror covers, high-grade Silver and Bronze Age keys, plus classic Timelys and rare MLJs," Zurzolo added. "Don't miss All Star Comics #8 CGC 4.5, Detective Comics #35 6.5, Incredible Hulk #1 7.5, and Tales of Suspense #39 8.0."
Quentin Eastman's Teenage Mutant Ninja Turtles Collection is packed with rare comics, toys, ephemera, and one-of-a-kind collectibles. Ranging from Kevin Eastman's early business cards (illustrations and van murals), copies of the first issue of Teenage Mutant Ninja Turtles and subsequent issues, to toys, press releases, movie premiere passes, and a pre-press mockup of the first Gobbledygook (in which Quentin contributed a story). Highlights include Teenage Mutant Ninja Turtles #1 9.4 Kevin Eastman Signature Series with sketch, Gobbledygook Proof Copy #1 and #2, and a rare NYC variant cover of the TMNT #3.
The original art section features a complete eight-page Richard Corben Creepy story, at will blow your mind. Plus, the Adam Kubert Wolverine #97 cover, a John Buscema Galactus splash page from Silver Surfer: Judgment Day, and a Cockrum cover for Thor #284 are more must-sees.
For video game collectors, the auction offers over 250 titles with Bioshock WATA 9.8 for the Xbox 360, NES's Tecmo Baseball WATA 9.4 & Ninja Gaiden
WATA 6.5, and Mega Man X WATA 9.0 for the Super Nintendo are some of the most desirable lots. A spicy array of pulps, and many favorite 80s movies in the VHS selection will be up for auction including hard-to-find copies of "Breakfast Club" and "First Blood".
"If you're looking to add to your investment collectibles portfolio, or for the perfect gift for the holidays, we've got you covered," Zurzolo concluded. "Please don't hesitate to call us at 888-779-7377 for assistance with your collection."
Related news
30 Sep 2023
New Vintage and Modern Marvels in Pedigree Comics' October Marvel Grand Auction!
​According to Pedigree Comics' CEO and President, Doug Schmell, his company's upcoming October Grand Auction will feature many brand new CGC certified Marvels from the Silver and Bronze Ages as well as a few from the Copper Age.
Read more
16 Sep 2023
Comics, Toys, Political Items, More in Hake's Online Auction
Hake's Auctions newest online exclusive auction is now open for bidding and covers a large array of collecting focuses spread out over 2,700+ lots. The auction is filled with comics, political material, action figures & toys, video games, art, VHS & more
Read more