Cover Art, Full Story From Robin's 1988 'Death in the Family' Shine Bat-Signal on Heritage's June Comic Art Auction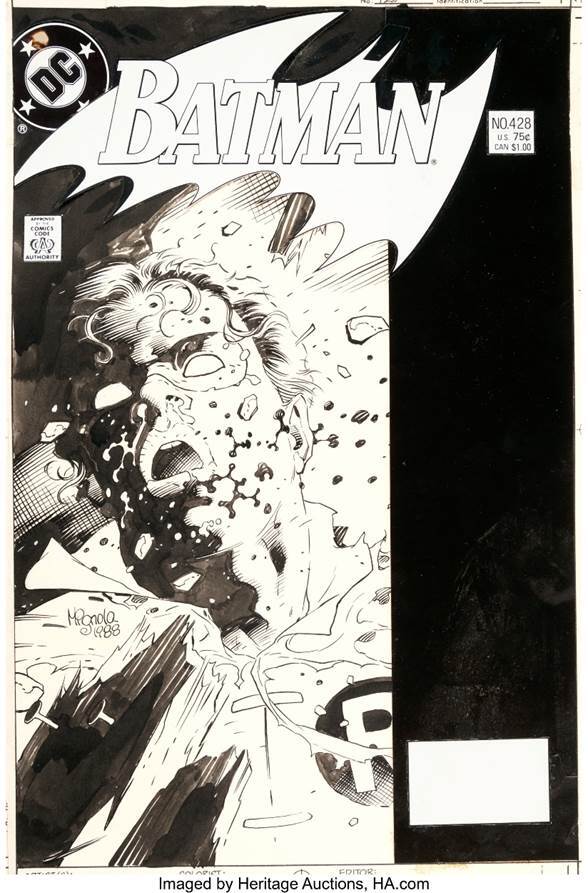 DALLAS, Texas (May 27, 2022) – Even before bidding opened for Heritage Auctions' June 16-19 Comics & Comic Art Signature® Auction, one offering made global headlines: Frank Miller and Lynn Varley's original cover art for 1986's Batman: The Dark Knight Returns Book One, the iconic cover from one of the most important titles of the past half century. Yet that historic lightning strike is just one centerpiece among many landmark works of original comic art featured in this historic event, which includes some swinging Spider-Man art from Todd McFarlane and the entirety of one of the most influential – and infamous – Batman stories ever told, "A Death in the Family."
Not only does this auction feature Mike Mignola's original cover art for 1988's Batman No. 438, featuring a battered Robin, but here, too, you will find the entire 22-page story contained in that issue – the one during which the Joker killed Jason Todd's Robin with an assist from DC Comics readers and a 1-900 number. The story, written by Jim Starlin with art by Jim Aparo and Mike DeCarlo, features one of the most indelible images in Batman's long history: The Dark Knight carrying the bloodied Boy Wonder from the wreckage.
Miller made mention of Jason Todd's death in The Dark Knight Returns, two years before the Joker beat him up and blew him up. And though Miller (and many others at DC) loathed the publisher's decision to put Robin's fate to a vote – out of more than 10,000 calls, the Boy Wonder lost by a mere 72! –Starlin's "A Death in the Family" has gone from one of the Batman Family's most controversial tales to one of its most enduring.
Robin's death "made me realize that all this goes a lot deeper in people's consciousness than I thought," longtime comic-book writer and Batman editor Dennis O'Neil said in 1991. "All these years, I've considered myself to just be writing stories. I now know that that's wrong. That Batman and Robin are part of our folklore. Even though only a tiny fraction of the population reads the comics, everybody knows about them the way everybody knows about Paul Bunyan, Abe Lincoln, etc. Batman and Robin are the postindustrial equivalent of folk figures. They are much deeper in our collective psyches than I had thought."
Mignola's cover art, and Aparo and DeCarlo's iconic interiors (which feature a cameo from Superman, essentially reprising his The Dark Knight Returns role as government operative), have been in a private collection since the 1990s.
"For an important book like this, it's extraordinarily rare that the entire story would be kept together and offered together," says Heritage Auctions Vice President Todd Hignite. "Because of the value of these pages, the vast majority would have been broken up a long time ago. But we're very fortunate they remained together, so we can offer this complete story – one of the most important in Batman history – during what has shaped up to be the best Batman original art auction in recent memory."
Which is hardly hyperbole, as this auction also includes original artwork from another 1980s Batman book that, like Dark Knight Returns and "A Death in the Family," had profound and long-term ramifications. This event offers two pages from Alan Moore and Brian Bolland's 1988 Batman: The Killing Joke, in which the Watchman writer and his artist collaborator provided the Joker with a tragic origin story defined by a single bad day (and a red hood, which later became the disguise of a resurrected Jason Todd after his murder at the hands of the Joker). The Killing Joke, of course, is best known as the book in which The Joker shoots and paralyzes Barbara Gordon, who eventually morphed from Batgirl to the Oracle.
Iconic Batman covers abound in this auction, among them one of the earliest ever offered at auction – "and one of the earliest known to exist," Hignite says. That would be the cover art for 1942's Detective Comics No. 59, featuring Batman and Robin as drawn by their co-creator Bob Kane and his beloved Golden Age Batman collaborator Jerry Robinson. This is the first time Heritage has had the privilege and pleasure of offering a Kane cover.
Here, too, is what Hignite says is "possibly the most desirable single piece of Jim Lee art ever to come to auction": the triple gatefold variant cover for Batman No. 619, which wrapped the 12-part "Hush" epic that resurrected Jason Todd and established Bruce Wayne and Selina Kyle as more than mere Bat and Cat chasing each other on rooftops. This is the Batman Family version of the variant, a roster that includes Batman and Catwoman, Robin and Nightwing, Oracle and her father Commissioner James Gordon, Huntress, Superman, Harvey Dent and Hush himself.
"Given the fan response and the success of the story, we felt that we needed to do something really big to close it out," Lee told Comic Book Resources about the chart-topping "Hush" arc. "I thought it would be really cool to create two covers – one for the heroes and one for the villains. The only way to squeeze them all on there without just doing headshots was to create these gatefolds. I love the fact when you open the cover you get to see more of the images unfold like a mystery!"
This event also features two Caped Crusader covers by illustration legends gone too soon: Batman No. 246 by Dave Cockrum and Neal Adams (Frank Miller's mentor, who died April 28) and Batman No. 438 by George Pérez, who died only eight days after Adams.
"Before Frank Miller, Neal was the definitive Batman artist," Hignite says, "and George, of course, was one of the definitive artists of the 1980s."
One of the definitive artists of the 1990s was Todd McFarlane, who swung to stardom on Spider-Man's spaghetti webbing. This auction features one of the more coveted covers McFarlane drew during tenure with the Web-Slinger –the final one, too: 1991's Spider-Man No. 16, guest-starring Rob Liefeld's X-Force. That cover is accompanied in this auction by individual pages, offered separately, from the same issue, McFarlane's final fling with Spidey before launching Spawn at his Image Comics.
"As such, these works show McFarlane at his peak in terms of action and detail," Hignite says.
And to really tie this auction together, several Frank Miller pages will be offered – among them a page from The Dark Knight Returns Book Four, featuring Superman off to fight Batman. Now, as then, everyone wins.
Heritage Auctions is the largest fine art and collectibles auction house founded in the United States, and the world's largest collectibles auctioneer. Heritage maintains offices in New York, Dallas, Beverly Hills, Chicago, Palm Beach, London, Paris, Geneva, Amsterdam, Brussels and Hong Kong.
Heritage also enjoys the highest Online traffic and dollar volume of any auction house on earth (source: SimilarWeb and Hiscox Report). The Internet's most popular auction-house website, HA.com, has more than 1,500,000 registered bidder-members and searchable free archives of five million past auction records with prices realized, descriptions and enlargeable photos. Reproduction rights routinely granted to media for photo credit.
For breaking stories, follow us: HA.com/Facebook and HA.com/Twitter. Link to this release or view prior press releases.
Hi-Res images available:
Robert Wilonsky, Communications Director 214-409-1887; [email protected]
Related news
13 Sep 2022
Nearly 2,200 Lots Over Three Days, All Items Start At $9.99!
Hake's Auctions' newest online exclusive auction opens for bidding Wednesday, September 7, 2022. Closing dates are September 20-22, 2022.
Read more
27 Aug 2022
CGC-Graded Comics Lead Heritage Auctions Comics & Comic Art Signature® Auction September 8-11
Most of the top comic books – including the top 50 by pre-auction estimates – in Heritage Auctions' Comics & Comic Art Signature® Auction September 8-11 boast CGC grades.
Read more