Hake's Offers Comics & More In 2,000+ Lot Auction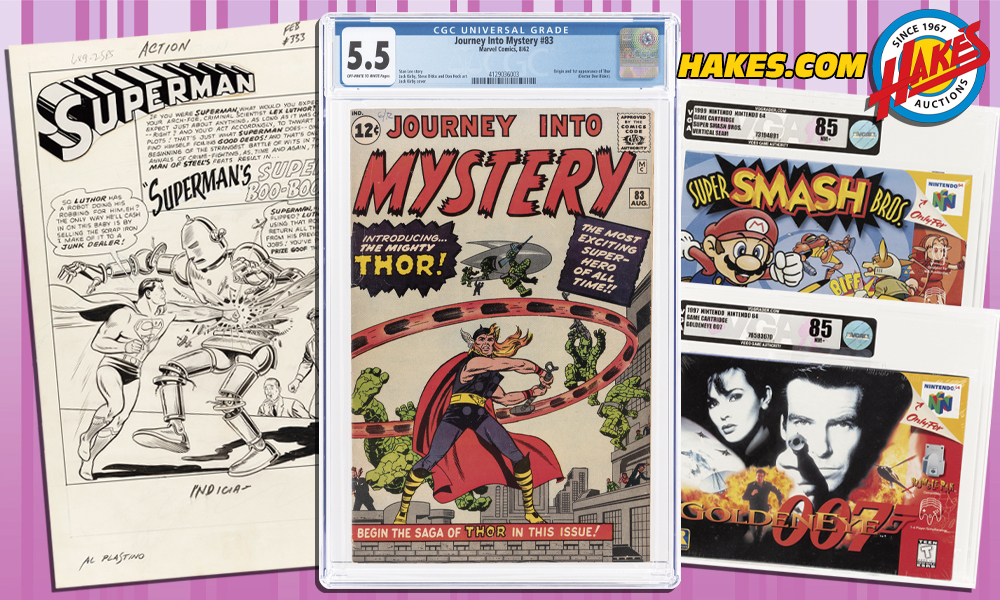 Hake's Fall sale is now open for bidding and includes 2,082 lots, featuring another spectacular array of Americana and pop culture collectibles, including nearly 300 CGC-graded comic books. Offerings include first appearances of characters like Thor, Iron Man, Wolverine and more as well as key issues for Marvel, DC Comics and others.
The auction also includes over 200 third-party graded video games, ranging from Atari 2600 to PS4. Many rarities and highest graded examples for some of the most popular games such as Mario Bros., Tetris, Zelda and many more are now up for bid.
Our Star Wars section is headlined by one of the rarest and most sought-after Kenner figures, an AFA 75 carded example of Obi-Wan Kenobi (Double-Telescoping) from 1978. Few carded examples are known in the hobby and these rarely come up for sale. This rarity is joined by nearly 300 Star Wars items in total, including prototypes, pre-production pieces, foreign issues, rare varieties and much more.
Other third-party certified and graded material includes coins, sports cards, VHS tapes and the single highest graded concert ticket for The Beatles' final concert in 1966.
Hake's once again delivers the best of the best and the rarest of the rare to the collecting community. The auction is now live for bidding with November 15-16, 2022 closing dates.
Related news
11 Mar 2023
ComicConnect's Event Auction #53 Ends Next Week
ComicConnect's Event Auction #53 ends this coming week, March 13-17, 2023 at 7PM EST.
Read more
1 Mar 2023
Hake's Offers 300+ CGC-certified Comics & More!
Hake's latest auction is now open for bidding at hakes.com and features 1,938 lots, including 333 CGC-certified comic books spanning the Golden Age to Modern.
Read more