Marvel Comics #1 Spearheads Timely Highlights in ComicConnect's Event Auction #52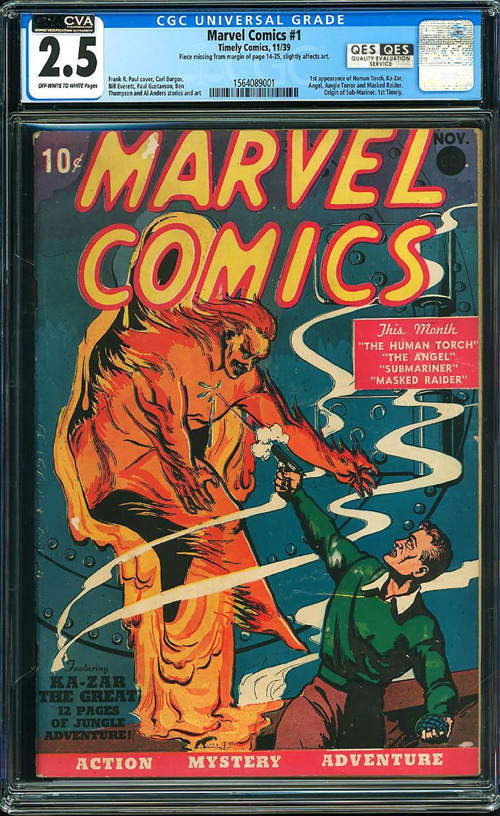 "One of the most desirable comics in the hobby, Marvel Comics #1, headlines ComicConnect's Event Auction #52, leading a superior selection of over 150 Timelys on tap," Vincent Zurzolo, the auction house's President explained. "Published in 1939, Marvel Comics #1 is one of the top five most important comics of all time as it marks the beginning of the entire Marvel universe that is so much a part of modern pop culture."
Marvel Comics #1, in due course, paved the way for the creation of iconic characters and teams that are household names like Spider-Man, X-Men, Fantastic Four, Captain America and the Avengers. "Every copy of Marvel Comics #1, and there aren't many, is a historic piece of the hobby and a blue-chip investment comic," Zurzolo added.
Before Timely ultimately became known as Marvel Comics by way of Atlas, the publisher sold millions of books whose covers were emblazoned with some of the most battle-scarred depictions produced in the Golden Age. Led by Alex Schomburg, who was a master of crafting gruesomely patriotic imagery splayed across a violent field of immense depth, Timelys have become one of, if not the most collectible, of all Golden Age comics.
Zurzolo said to check out All Winners #12 8.5, Human Torch #12 7.0, USA Comics #8 8.5 and USA Comics #9 8.5 and don't miss Captain America #46 2.5, Marvel Mystery #16 8.0, Sub-Mariner Comics #10 7.5, or USA Comics #3 8.0.
Substantial runs of All Winners, Captain America Comics, and Marvel Mystery are available, plus multiple offerings from titles like Human Torch, both series of Mystic Comics, Sub-Mariner Comics, Sun Girl, USA Comics, and Young Allies. Contact ComicConnect's Director of Consignments, Rob Reynolds ([email protected]) with any questions or call toll-free 888-779-7377 to consign to one of their upcoming auctions.
Related news
26 Oct 2023
Collector Keys! Hakes Auction #239 online now - ends November 14-15, 2023
Hakes current auction features over 400 certified comic books spanning Golden Age to Modern, with key issues, pedigree copies, Signature Series, variant covers and more.
Read more
11 Oct 2023
Pedigree Comics' October Marvel Grand Auction Underway with Brand New 9.8 CGC Captain America Run!
Pedigree Comics' fabulous October CGC Vintage & Modern Marvel auction is underway. The auction features many brand new CGC certified Marvels from the Silver and Bronze Ages as well as a few from the Copper Age.
Read more