Nearly 2,200 Lots Over Three Days, All Items Start At $9.99!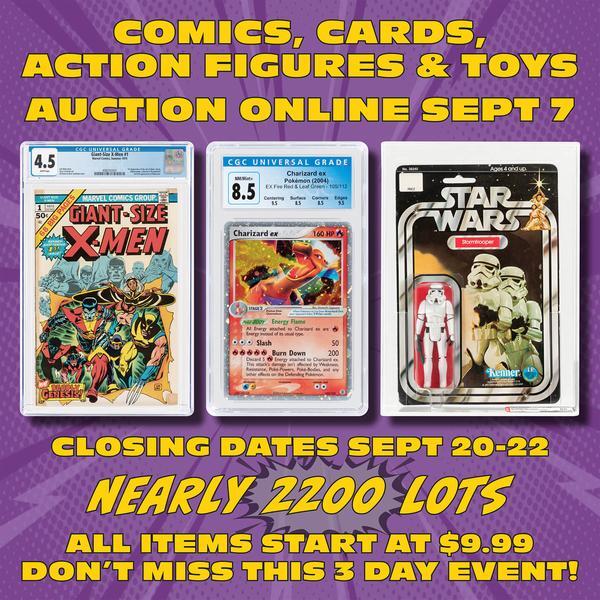 Hake's Auctions' newest online exclusive auction opens for bidding Wednesday, September 7, 2022. Closing dates are September 20-22, 2022.
This auction includes over 1,300 CGC certified comics, over 2,300 "raw" comics, nearly 200 CGC Pokémon cards, nearly 400 Star Wars action figures and related toys and an additional 200 lots including other action figure lines and an assortment of vintage toys and premiums.
Toylines and characters represented include - Marvel and DC Comics, G.I. Joe, Buck Rogers, Kenner, Toy Biz, Hasbro and much more.
Session 1 ends September 20 and includes CGC certified comics (A-K)
Session 2 ends September 21 and includes CGC certified comics (L-Z), other comic lots, hardcovers and more
Session 3 ends September 22 and includes Pokémon cards, toys and action figures including Star Wars
Fans and collectors of pop culture are sure to find items to add to their collections with the wide array of collectibles this specialty auction has to offer. The auction cane be found at www.hakes.com.
Related news
30 Sep 2023
New Vintage and Modern Marvels in Pedigree Comics' October Marvel Grand Auction!
​According to Pedigree Comics' CEO and President, Doug Schmell, his company's upcoming October Grand Auction will feature many brand new CGC certified Marvels from the Silver and Bronze Ages as well as a few from the Copper Age.
Read more
30 Sep 2023
The Addiction Premieres at New York Comic Con: Exclusive Andres Labrada Cover Reveal!
Come meet Vincent Zurzolo, David Quinn, Claudia Balboni and Team Addiction at The Addiction Booth #3537 at New York Comic Con, October 12-15! Don't miss your chance to own any of several variant cover editions of the first issue.
Read more