Unique Hash Rush and NFT Auction Ends Sunday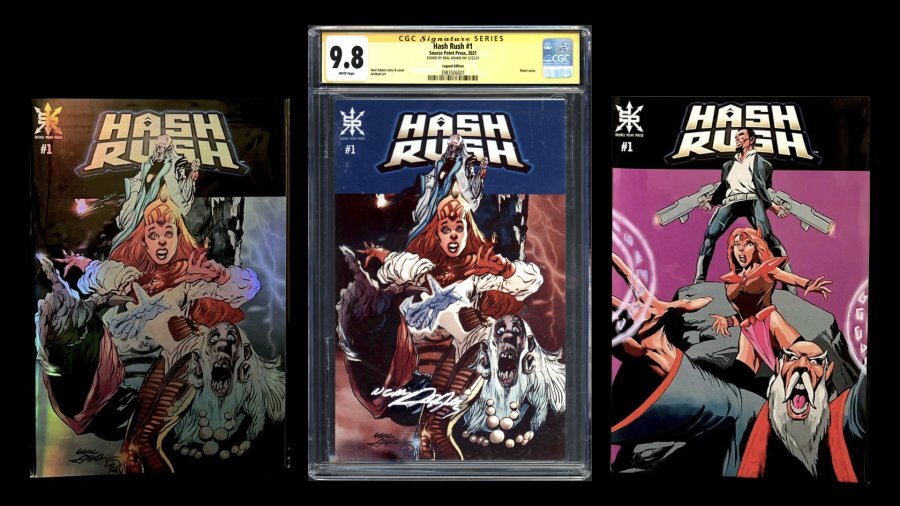 ComicConnect's unique Hash Rush auction ends this coming Sunday, February 20, 2022, at 6PM EST. "With six hot collectibles, and one amazing experience included," began ComicConnect's COO Vincent Zurzolo, "investment collectors are passionately bidding on three comics, including a single print, one-of-a-kind Legend Edition with a gold aluminum cover, a Crystal Edition copy, a limited-edition copy, plus three NFTs for each comic, and finally a trip to New York City and dinner with Neal Adams!"
View the Hash Rush Auction – ends Sunday at 6PM EDT.
According to industry experts, the final hammer price could be immense. Former Marvel Editor-in-Chief, Jim Shooter has called the items "priceless." Chuck Rozanski, President of Mile High Comics Inc., speculates that it "may well enter the rarified world of six figures."
According to Zurzolo it is not just about the collection's value, but its precedent. "Comic book values have been skyrocketing for several years," he noted. "Combining them with hot, high-tech collectibles like NFTs and unique life experiences may take our industry in a new direction."
For more information, visit ComicConnect's Auction Schedule or call them at (888) 779-7377 for assistance.
Related news
19 May 2022
ComicConnect Event Auction #50 Underway!
Just when you guess the market can't get any bigger, it goes ahead and amazes buyers and sellers alike with record after record set and smashed!
Read more
13 Mar 2022
ComicConnect's Event Auction Ends Next Week
ComicConnect's Event Auction #49 ends every night next week, March 14-19, 2022. In addition to original comic art & top comic keys from the Silver & Golden Ages, the auction offers a variety of investment collectible categories for a collector's portfolio.
Read more