ComicConnect: Mutant Mayhem in Mega Monthly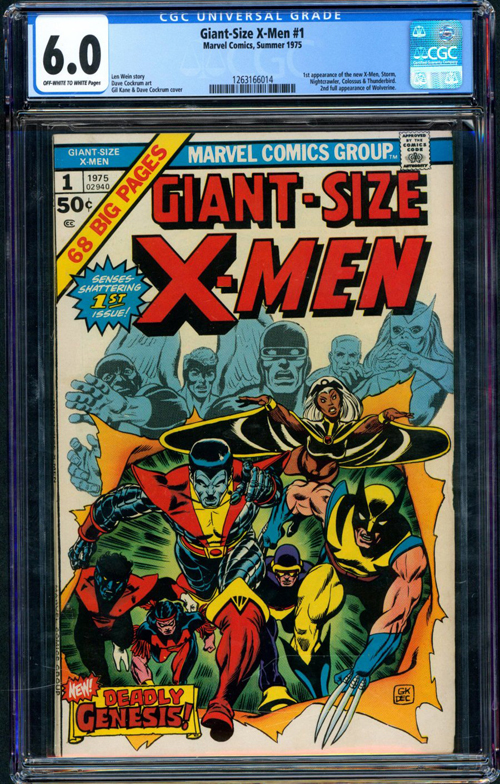 While four-color intolerance continues to oppress teenage mutant heroes throughout the comic book world, collectors, however, have thoroughly embraced the unique characters and storylines that oblige acceptance upon even the most singular members of society. First in the Silver Age, and then revitalized with Giant Size X-Men #1 in the Bronze, X-Men and related titles have long served as some of the best-selling, most highly sought collectibles in the hobby.
Bidding begins Monday, June 26, at noon on mutant magazines like X-Men Giant Size #1 6.0 (1st new X-Men), X-Men #58 9.4 (1st Havok), X-Men #94 8.5 (new X-Men begin), X-Men #101 9.2 (1st Phoenix), and New Mutants #98 9.8 (1st Deadpool).
Over 2,000 lots will be available including nearly 1,250 third-party certified comics, scores of collectible group lots from every comic age, and more desirables like Amazing Spider-Man #15 3.5 (1st Kraven), Amazing Spider-Man #300 9.6, Famous Funnies #102 (classic WWII cover), Avengers #8 3.0 (1st Kang), and a selection of pulps.
ComicConnect is currently accepting consignments towards their next Event Auction; cash advances are available up to $5 million. For assistance call 888.779.7377 or email the Director of Consignments, Rob Reynolds [email protected]. The auction house is located in the heart of New York City.
Related news
30 Sep 2023
New Vintage and Modern Marvels in Pedigree Comics' October Marvel Grand Auction!
​According to Pedigree Comics' CEO and President, Doug Schmell, his company's upcoming October Grand Auction will feature many brand new CGC certified Marvels from the Silver and Bronze Ages as well as a few from the Copper Age.
Read more
16 Sep 2023
Comics, Toys, Political Items, More in Hake's Online Auction
Hake's Auctions newest online exclusive auction is now open for bidding and covers a large array of collecting focuses spread out over 2,700+ lots. The auction is filled with comics, political material, action figures & toys, video games, art, VHS & more
Read more