ComicConnect's Event Auction #53 Ends Next Week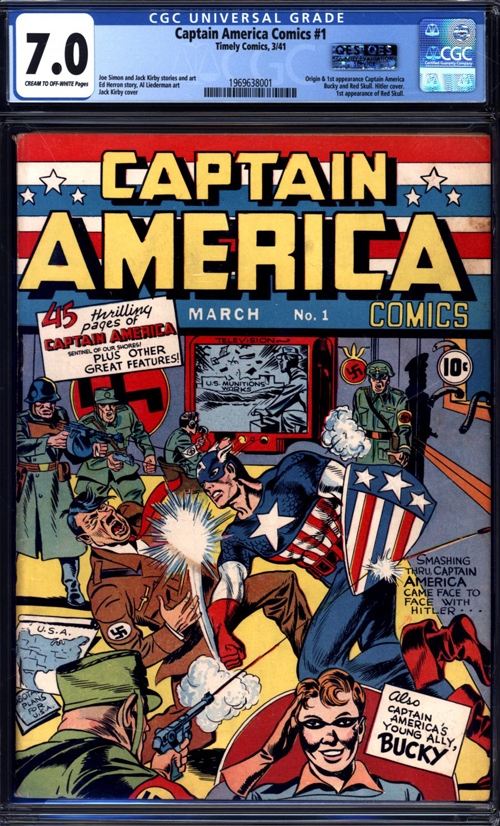 ComicConnect's Event Auction #53 ends this coming week, March 13-17, 2023 at 7PM EST. "Our first Event Auction of the year is concluding, and I couldn't be happier with the direction the market is heading again," explained Vincent Zurzolo, President, and co-founder of the auction house. "Bidding has been strong (and often) across a selection of blue-chip keys for every portfolio."
A Superman run up to issue #100 includes three unique copies of the landmark first issue, "an Action Comics #1 with a story to tell, a durable Batman #1, a lovely copy of Captain America Comics #1, and a dazzling Fantastic Four #5 lead bidding," Zurzolo informed. "We're taking consignments for our next auction, get in touch with me as soon as possible."
The auction end-dates are as follows:
Session 1: (Original Art, NWC + Video Games, Video Tapes) Ends: Mar 13, 2023
Session 2: (Pulps, International, Action - Batman) Ends: Mar 14, 2023
Session 3: (Battle - Grendel) Ends: Mar 15, 2023
Session 4: (Harley Quinn - Static) Ends: Mar 16, 2023
Session 5: (Strange Adventures - Zip Comics) Ends: Mar 17, 2023
The international comic market has arrived with some of the most desirable selections in the hobby offered in Event Auction #53. From a run of El Vengador (The Avenger) and La Sombra (The Shadow) pulps from the Spanish Civil War era, to the Mexican Edition El Sorprendente Hombre Arana (The Amazing Spider-Man) #128 8.5 featuring a Peter Parker and Gwen Stacy wedding. Plus, Los Hombres X (X-Men) #1 6.5 and dozens more incredibly rare international copies. See every international pulp and comic lot.
"Our videogame section showcases the incredible Nintendo World Championship (NWC) Collection of Nicholas Membrez-Weiler who was only seven years old during the competition. The entirety of the collection is authenticated and certified," Zurzolo explained.
Golden Age highlights include a copy of Captain America Comics #1 7.0, Venus #19 8.5 (Zurzolo's all-time favorite cover), two high-grade Gaines File Copies in the form of a Crime SuspenStories #22 9.4 and a Mad #1 9.8, "both of these books are simply stunning," Zurzolo added. Bidders will also find Whiz Comics #2(#1) 5.5, Sensation Comics #1 5.5, and Detective Comics #35 3.5.
Silver, Bronze, and Modern collectors can go after Amazing Fantasy #15 6.5, Ultimate Fallout #4 9.8 (Variant), Fantastic Four #5 9.4, Tales to Astonish #44 9.6, Strange Tales #110 9.0, Amazing Spider-Man #1 6.5, Showcase #4 6.0, and Tomb of Dracula #10 9.8, and Amazing Spider-Man #799 9.9 to name a few. View the Event Auction #53 catalog.
Collectors will also find pulps, certified video tapes, posters, and memorabilia. Contact Rob Reynolds ([email protected]) with any questions about the auction or consigning. Call toll-free 888-779-7377.
Related news
30 Sep 2023
New Vintage and Modern Marvels in Pedigree Comics' October Marvel Grand Auction!
​According to Pedigree Comics' CEO and President, Doug Schmell, his company's upcoming October Grand Auction will feature many brand new CGC certified Marvels from the Silver and Bronze Ages as well as a few from the Copper Age.
Read more
16 Sep 2023
Comics, Toys, Political Items, More in Hake's Online Auction
Hake's Auctions newest online exclusive auction is now open for bidding and covers a large array of collecting focuses spread out over 2,700+ lots. The auction is filled with comics, political material, action figures & toys, video games, art, VHS & more
Read more