ComicConnect's Event Auction #53 Ends Next Week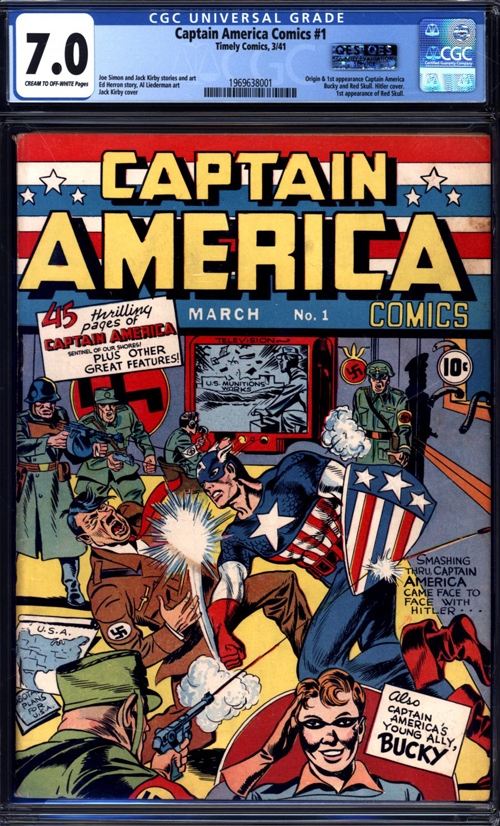 ComicConnect's Event Auction #53 ends this coming week, March 13-17, 2023 at 7PM EST. "Our first Event Auction of the year is concluding, and I couldn't be happier with the direction the market is heading again," explained Vincent Zurzolo, President, and co-founder of the auction house. "Bidding has been strong (and often) across a selection of blue-chip keys for every portfolio."
A Superman run up to issue #100 includes three unique copies of the landmark first issue, "an Action Comics #1 with a story to tell, a durable Batman #1, a lovely copy of Captain America Comics #1, and a dazzling Fantastic Four #5 lead bidding," Zurzolo informed. "We're taking consignments for our next auction, get in touch with me as soon as possible."
The auction end-dates are as follows:
Session 1: (Original Art, NWC + Video Games, Video Tapes) Ends: Mar 13, 2023
Session 2: (Pulps, International, Action - Batman) Ends: Mar 14, 2023
Session 3: (Battle - Grendel) Ends: Mar 15, 2023
Session 4: (Harley Quinn - Static) Ends: Mar 16, 2023
Session 5: (Strange Adventures - Zip Comics) Ends: Mar 17, 2023
The international comic market has arrived with some of the most desirable selections in the hobby offered in Event Auction #53. From a run of El Vengador (The Avenger) and La Sombra (The Shadow) pulps from the Spanish Civil War era, to the Mexican Edition El Sorprendente Hombre Arana (The Amazing Spider-Man) #128 8.5 featuring a Peter Parker and Gwen Stacy wedding. Plus, Los Hombres X (X-Men) #1 6.5 and dozens more incredibly rare international copies. See every international pulp and comic lot.
"Our videogame section showcases the incredible Nintendo World Championship (NWC) Collection of Nicholas Membrez-Weiler who was only seven years old during the competition. The entirety of the collection is authenticated and certified," Zurzolo explained.
Golden Age highlights include a copy of Captain America Comics #1 7.0, Venus #19 8.5 (Zurzolo's all-time favorite cover), two high-grade Gaines File Copies in the form of a Crime SuspenStories #22 9.4 and a Mad #1 9.8, "both of these books are simply stunning," Zurzolo added. Bidders will also find Whiz Comics #2(#1) 5.5, Sensation Comics #1 5.5, and Detective Comics #35 3.5.
Silver, Bronze, and Modern collectors can go after Amazing Fantasy #15 6.5, Ultimate Fallout #4 9.8 (Variant), Fantastic Four #5 9.4, Tales to Astonish #44 9.6, Strange Tales #110 9.0, Amazing Spider-Man #1 6.5, Showcase #4 6.0, and Tomb of Dracula #10 9.8, and Amazing Spider-Man #799 9.9 to name a few. View the Event Auction #53 catalog.
Collectors will also find pulps, certified video tapes, posters, and memorabilia. Contact Rob Reynolds ([email protected]) with any questions about the auction or consigning. Call toll-free 888-779-7377.
Related news
11 Mar 2023
ComicConnect's Event Auction #53 Ends Next Week
ComicConnect's Event Auction #53 ends this coming week, March 13-17, 2023 at 7PM EST.
Read more
1 Mar 2023
Hake's Offers 300+ CGC-certified Comics & More!
Hake's latest auction is now open for bidding at hakes.com and features 1,938 lots, including 333 CGC-certified comic books spanning the Golden Age to Modern.
Read more