Comics, Toys, Political Items, More in Hake's Online Auction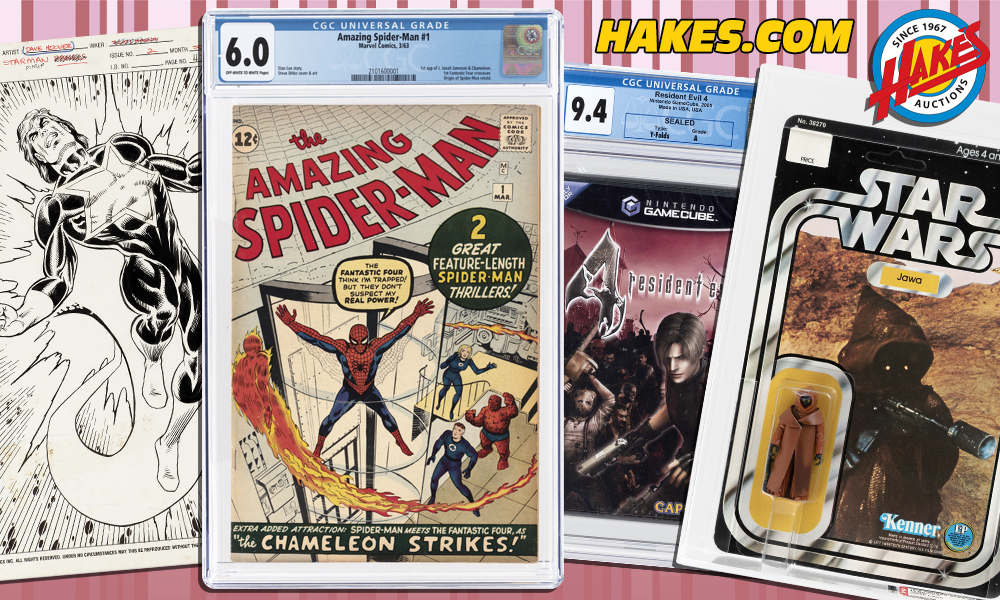 Hake's Auctions is hosting a special online exclusive auction covering a large array of collecting focuses that are spread out over 2,500 lots. The auction is filled with comics, political material, action figures and toys, video games, art, VHS, and more – all starting at just $9.99. The auction will be open for online bidding on Monday, May 1, 2023, and closes on Monday through Wednesday, May 15-17.
This special online auction contains something for many collecting focuses. There are nearly 1,000 CGC-graded comics, over 2,000 raw comics, and more than 600 political and historical artifacts. The auction offers over 400 action figures and toys (which includes nearly 300 Star Wars items) and more than 250 third party graded video games and VHS. Additionally, original art, autographs, lunch boxes, and much more are also in the auction.
"Fans and collectors of all types of pop culture collectibles and Americana are sure to find items to add to their collections with the wide array of treasures this online exclusive auction has to offer," Hake's President Alex Winter said.
The first session comprising the political and historical memorabilia will close on May 15. Highlights include a John F. Kennedy campaign button, a March on Washington for Jobs & Freedom button from 1963, and a Franklin D. Roosevelt Labor button.
Session two with comics and related material, such as original art and signed items, ends on May 16. Featured lots are New Mutants #98 CGC 9.8 (first Deadpool), Amazing Spider-Man #1 (first J. Jonah Jameson and Chameleon) and #300 CGC 9.6 (first Venom), and Batman Adventures #12 (first Harley Quinn in comics).
Then the third session featuring video games, VHS, action figures and toys, celebrity autographs, and miscellaneous collectibles concludes on May 17. A few key pieces are the Marvel Super Heroes Secret Wars Iceman figure, Terminator 2: Judgment Day VHS tape VGA 70+, The Last of Us for PlayStation 3 VGA 80, and a Star Wars Jawa figure with the vinyl cape.
Collectors can start bidding on May 1 at hakes.com.
Related news
26 Oct 2023
Collector Keys! Hakes Auction #239 online now - ends November 14-15, 2023
Hakes current auction features over 400 certified comic books spanning Golden Age to Modern, with key issues, pedigree copies, Signature Series, variant covers and more.
Read more
11 Oct 2023
Pedigree Comics' October Marvel Grand Auction Underway with Brand New 9.8 CGC Captain America Run!
Pedigree Comics' fabulous October CGC Vintage & Modern Marvel auction is underway. The auction features many brand new CGC certified Marvels from the Silver and Bronze Ages as well as a few from the Copper Age.
Read more