Pedigree Comics' Complete First 25 Years of Amazing Spider-Man Auction Underway, Ends on Wednesday Night, February 15th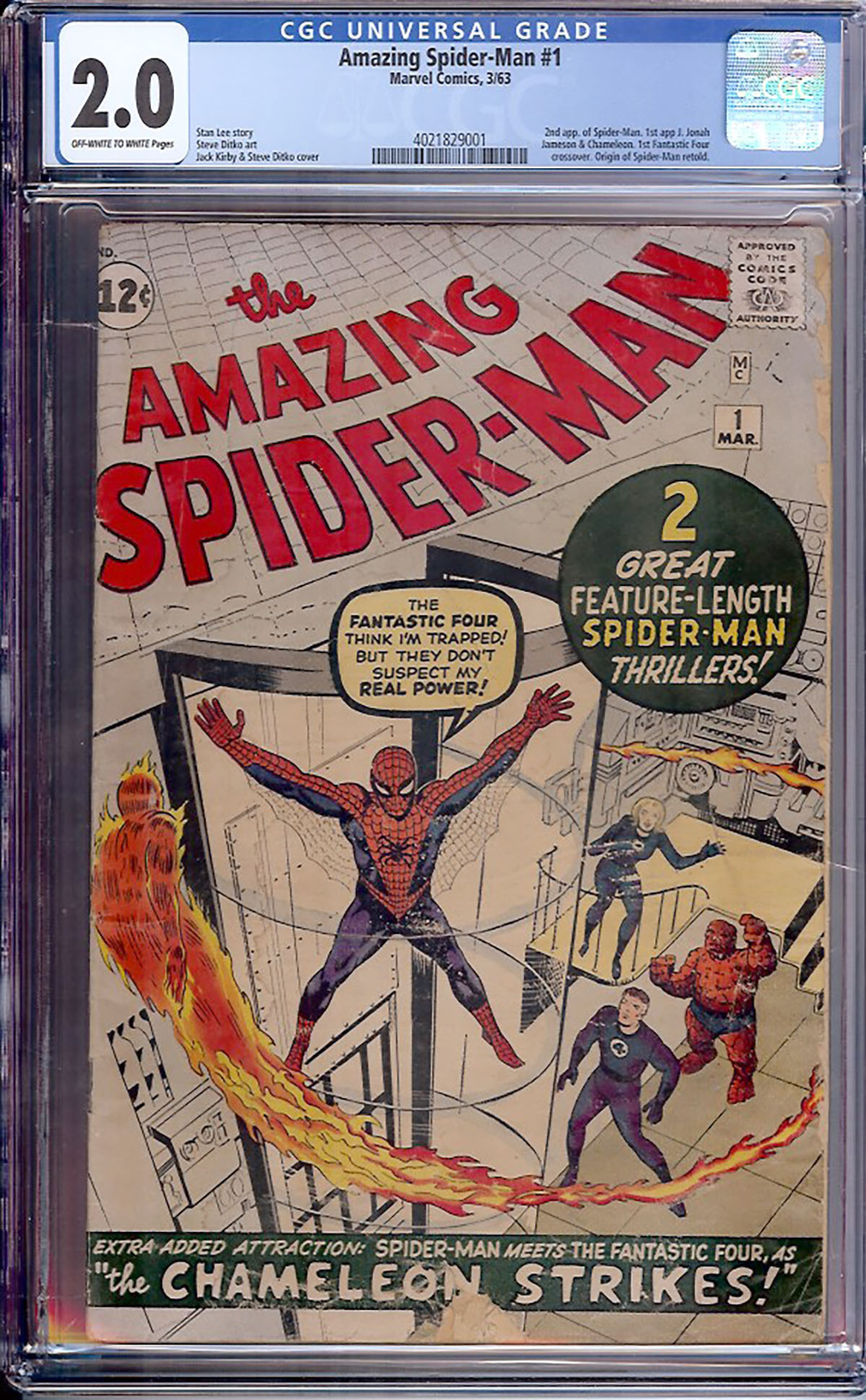 Pedigree Comics' Complete First 25 Years of Amazing Spider-Man Auction is underway. The auction began on the night of Wednesday, February 1st and lasts for 2 weeks (14 days) until the evening of Wednesday, February 15th on the Pedigree Comics website's (www.PedigreeComics.com) separate Grand Auction section. There is no Buyers Premium on any of the lots in the auction and EVERY Amazing Spider-Man book will be listed with no reserve. Every comic is CGC graded and the minimum bid is only $20 for this special Amazing Spider-Man Auction. You can bid on all of the Amazing Spider-Man books and other titles in the Auction Listing right now (over 400 lots). Just go to the Pedigree Comics website and click on the Auction banner.

The Amazing Spider-Man consignment comes from a collection out of the Philadelphia, PA area and consists of a complete mid to high grade run of Amazing Spider-Man #1-#297 (the first 25 years exactly of the title) plus Amazing Spider-Man Annuals and the Giant-Size Spider-Man issues. Most of the books in the consignment are in CGC certified mid to high grade condition (5.0 to 9.8) with only a few in the lower grades (some of the early issues). The collector began consigning his books piecemeal (all Silver Age Marvels and DC's) to Pedigree Comics in 2018 and has now decided to sell his coveted Amazing Spider-Run, his favorite part of his collection. Every issue is included in the first 25 years of the title and he has put together quite a run, with every book containing white or off-white to white pages (and only a few with off-white). Here is his story:

"My parents encouraged me to read from a very early age, and I am sure comics played a part in their strategy. I think the first comic I purchased was Superman's Pal Jimmy Olsen #11 which would have been on the newsstand some time in 1956 when I was 6 years old. I was soon buying all of the Superman line (Action Comics, Superman, Superboy, Adventure Comics, Jimmy Olsen and Lois Lane) and the Batman comics too (Detective Comics, Batman, and World's Finest Comics) – all that my $1.00 a week allowance would bear! Comic distribution was quite different then, and not every large publisher was available at every newsstand or store. DC, Archie Comics and Classics Illustrated were all on sale at the main location I purchased my comics, Davis's Trading Post, which is still a going entity, run by the original owner's two sons and other family members.

My grandmother had a corner store in Manayunk (an old, mixed ethic neighborhood in Philadelphia). My Dad would visit his Mom's store weekly to do her books and to make sure she was doing OK. Grandma Annie would always give my Dad a bag of groceries to bring home with him, and in the bag were a few comics for me. Her store only sold some of the smaller publishers' comics: Dell, Harvey, American Comics Group and Gold Key. Of course, I was always very happy to get them. One day Davis's Trading Post had a new comic that caught my attention, Brave and the Bold #28, and it opened my eyes to a whole new world, the JLA. Green Lantern became the first hero that I fantasized about being. Now if some darn alien would just give me that ring and the magic lantern.

At this time, Davis's Trading Post did not sell Atlas/Marvel Comics. But the little corner grocery store just up the block from me, DelManicor's, did. And one fine day, I picked up Fantastic Four #4, and my world view as a 12 year-old opened to amazing new horizons. I soon was buying all their new superhero comics as they came out. My first issue of Amazing Spider-Man was issue #3. Around senior year of high school I became interested in other things and did not purchase comics as often as I had as a child. Around senior year of college, I got my first apartment, and began buying occasional comics at a corner store near my apartment in Chester. Then I began to work in Philadelphia, and started buying in the secondary market, issues I had missed previously, concentrating on Amazing Spider-Man. In 1976 Fat Jack's Comic Crypt opened, and I became a regular customer. The owner, Mike, is a really great guy, and his store was my regular stop each week right up to when I stopped collecting comics around 1987-1988 (two years after I purchased my first house and was stuck paying a mortgage at 11% interest). A little while ago I visited Fat Jack's to say hello to Mike and let him know I was planning to send my ASM collection to Doug (at Pedigree Comics) to sell. Mike remembered how I had talked about wanting to have ASM 1 to 300. Well, I almost got that far, as you will see just how far in this auction. Now I hope my comics will go to people who will treasure them for the next 20 to 50 years!".

This is one of the best mid to high grade runs of Amazing Spider-Man ever brought to market and every book is being offered without a reserve! Here are some of the highlights:

Amazing Spider-Man 1 2.0
Amazing Spider-Man 13 5.0
Amazing Spider-Man 14 4.5
Amazing Spider-Man 25 7.0
Amazing Spider-Man 27 7.5
Amazing Spider-Man 33 8.5
Amazing Spider-Man 34 8.5
Amazing Spider-Man 39 7.5
Amazing Spider-Man 48 8.0
Amazing Spider-Man 57 8.0
Amazing Spider-Man 61 8.5
Amazing Spider-Man 73 8.0
Amazing Spider-Man 100 8.5
Amazing Spider-Man 110 9.2
Amazing Spider-Man 120 9.2
Amazing Spider-Man 122 8.0
Amazing Spider-Man 129 9.0
Amazing Spider-Man 133 9.2
Amazing Spider-Man 160 9.6
Amazing Spider-Man 165 9.6
Amazing Spider-Man 177 9.6
Amazing Spider-Man 179 9.6
Amazing Spider-Man 180 9.6
Amazing Spider-Man 181 9.6
Amazing Spider-Man 194 9.6
Amazing Spider-Man 203 9.6
Amazing Spider-Man 217 9.8
Amazing Spider-Man 218 9.8
Amazing Spider-Man 228 9.8
Amazing Spider-Man Annual 1 4.5
Giant-Size Spider-Man 2 9.2

As an added bonus, the auction also contains a near-complete run of Thor #127-#193 in mid to high grade with only a couple issues missing from the run! This run is over 98% complete with many in-demand issues in high grade. Here are the highlights of the Thor run:

Thor 127 8.0
Thor 128 7.5
Thor 131 7.5
Thor 132 8.0
Thor 134 9.0
Thor 138 8.0
Thor 140 8.0
Thor 150 7.5
Thor 154 7.5
Thor 156 8.0
Thor 168 8.5
Thor 176 8.0
Thor 177 9.0
Thor 178 8.0
Thor 182 7.5
Thor 184 8.0
Thor 188 8.0
Thor 190 9.0
Thor 191 8.5
Thor 193 8.0

Please make sure to check this space and the Latest News section of the Pedigree Comics web site next week for the latest news and last-minute additions to the February Grand Auction.

If you have any questions or comments about the consignment process, any of the auction lots or about the February Amazing Spider-Man Auction in general, please contact Pedigree Comics' CEO and President, Doug Schmell at (561) 422-1120 (office) or (561) 596-9111 (cell) or at [email protected]. For any financial related and consignment payment questions, please contact their CFO, Lisa Shapiro, at [email protected] and for any technical related questions or concerns, please contact their Web Master at [email protected].
Related news
30 Sep 2023
New Vintage and Modern Marvels in Pedigree Comics' October Marvel Grand Auction!
​According to Pedigree Comics' CEO and President, Doug Schmell, his company's upcoming October Grand Auction will feature many brand new CGC certified Marvels from the Silver and Bronze Ages as well as a few from the Copper Age.
Read more
16 Sep 2023
Comics, Toys, Political Items, More in Hake's Online Auction
Hake's Auctions newest online exclusive auction is now open for bidding and covers a large array of collecting focuses spread out over 2,700+ lots. The auction is filled with comics, political material, action figures & toys, video games, art, VHS & more
Read more