Pedigree Comics' July 1970's & 80's Marvel Winnipeg Auction Underway, Ends on Wednesday Night, July 26th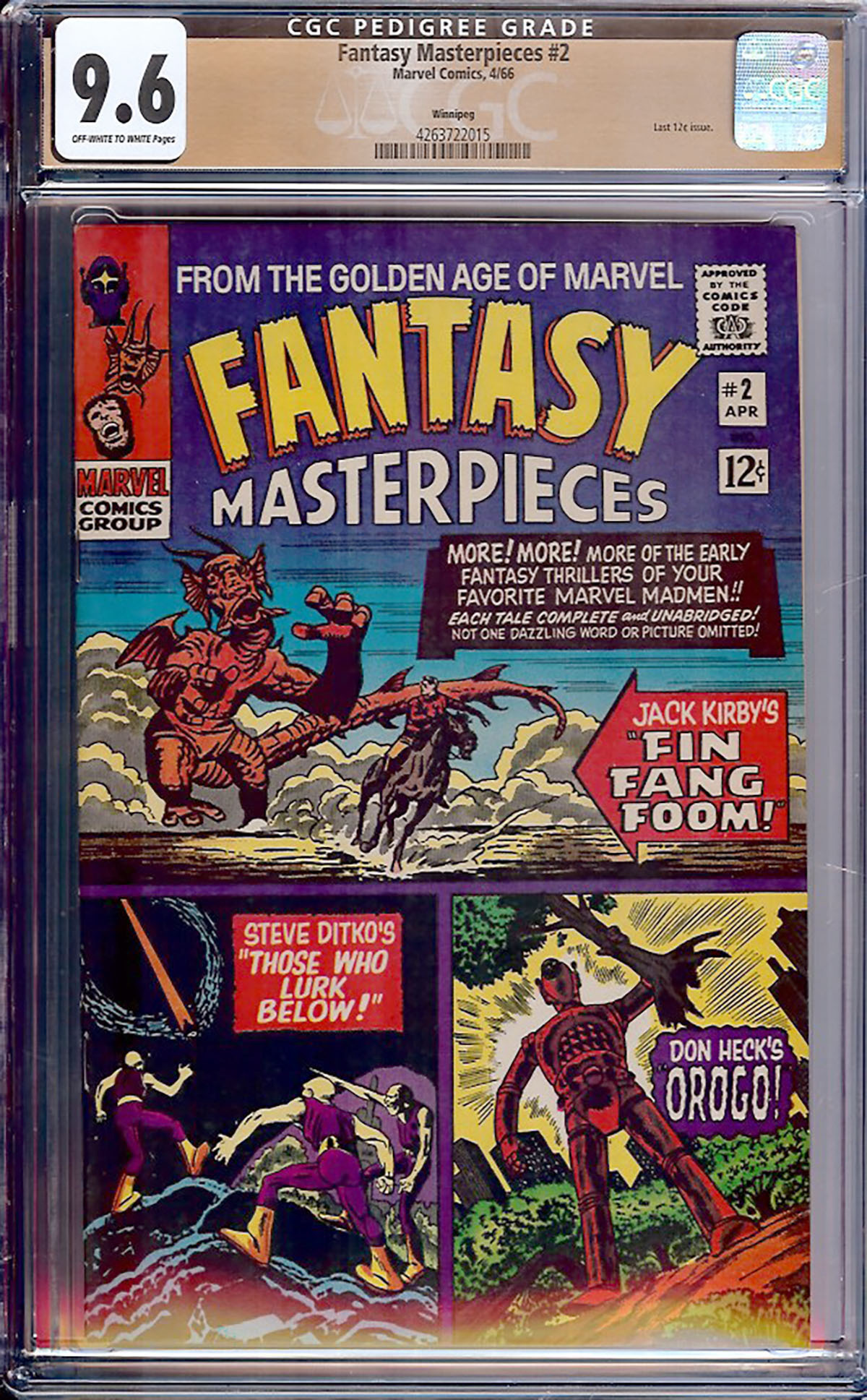 MAJOR WINNIPEG NEWS! Pedigree Comics' Incredible July 1970's & 80's Marvel Winnipeg Auction is underway. The auction features a brand new CGC certified group of books from the famous pedigreed Winnipeg Collection, from the 1970's and 80's, all in high grade. The auction just began on Thursday night, July 13th and lasts for two (2) weeks till the night of Wednesday, July 26th as a separate event on the Pedigree Comics website (www.PedigreeComics.com). There is no Buyers Premium on any of the lots in the auction and every book will be listed with no reserve. Every book is CGC graded and the minimum bid is only $20 for this auction. You can view and bid on the high grade comics in the Auction Listing right now (almost 600 lots). Just go to the Pedigree Comics website and click on the Auction banner.

This latest batch of Winnipeg Marvels was just recently graded by the CGC and represents many of the duplicate issues that Pedigree Comics' CEO and President, Doug Schmell, has stored over the past 25 plus years, when he originally bought the collection back in 1995. There are many different titles and issues to choose from, all in high grade and all (save for a handful) with white pages. There are approximately 400 brand new Winnipegs to choose from, from Alpha Flight to X-Men Adventures. There are nice runs of a few titles, including Avengers, Fantastic Four, Iron Man, Thor and Web of Spider-Man, plus a deep run of Spectacular Spider-Man (over 70 issues). Most of the Winnipeg Marvels were just recently graded by the experts at the CGC over the last couple of weeks and many are the highest certified copy to date!

If you have high grade CGC or CBCS certified comic books to sell or consign, do yourself a favor and contact Mr. Schmell. Please go to the site (www.PedigreeComics.com) and read the following for all consignment information or contact him directly at (561) 422-1120 or (561) 596-911 or by email at [email protected].

Pedigree Comics is now accepting consignments for their August Grand Auction. The sooner you consign your books the more exposure they will receive. They aggressively promote and advertise each auction and send periodic newsletters to all of their over 25,000 customers announcing the auction items. They also offer generous cash advances for quality consignments so check the site for consignment instructions and get your books in now.

Mr. Schmell invites you to take advantage of Pedigree's many outstanding services. Consignors maximize their profits selling in the Grand Auction, more so than on any other auction site or auction house. They do not charge a buyers' premium, an amount that most bidders take into consideration when bidding in other sites (the bidders simply deduct the buyers' premium amount, usually 20% of the winning price, from their final bid, meaning less $$ to the consignor and more to the auction site). The higher the value of your book(s) that sell in a Grand Auction, the more $$ you take home.

Pedigree consistently sets new sales records for Golden Age, Silver Age, Bronze and Copper Age comic books in each of their monthly auctions and they do not saturate the market with the same material each month. Pedigree also specializes and features quality consignments and collections in their own exclusive themed auction, something that other auction houses simply can not do. Grand Auctions are unique and exciting, with brand new CGC and CBCS certified and diversified, highest quality material in each event. Why take home less $$ and settle for less by consigning with someone else?

There are three easy ways to consign your books to the August Auction. The only criteria is that the books must be CGC or CBCS graded and worth no less than $20.00. If you have high grade raw books that you want to have certified and sold in the August auction or a future Grand Auction, you can utilize Pedigree's Raw To Riches Consignment Service, in which they will have your books certified under their own account and will lay out all the CGC or CBCS grading fees in advance for you (refer to the website and our Overstreet Comic Book Price Guide advertisement for all the details of the Raw to Riches Consignment Service). Here is how to consign:

1. Ship your books to their offices in Wellington, Florida. They will inventory, scan and upload each book into the Grand Auction listing. The items will be listed under your personal account and you will receive email notification at the conclusion of the auction with a list of every consigned book that sold along with the winning bid made.

2. Email the scans of the books you wish to consign directly to them at [email protected]. They will format and upload each scan onto their server and then put each book into the Grand Auction listing. Please use a .jpeg format with the resolution set at 72 and the pixel width at no more than 1200 for optimal clarity. If you do not have a scanner you can use a digital camera.

3. You can upload your own scans, item information, book descriptions and reserve amounts, if any, by utilizing their Automated Consignment System. Just register onto the site (www.PedigreeComics.com) and login, click the "Customer Page" tab under "Your Account" and then click "Consignments" (under the "Auctions" heading). You will then be able to enter the Pedigree Comics Consignment Management System and list your own CGC and CBCS certified books. Pedigree will receive an email once you have uploaded the scan and book information for each individual item into the system and they will then review the information imparted for accuracy. The item(s) will then be added to the Grand Auction listing to be bid on. You will be amazed how simple it is to use the Automated Consignment System.

If you have any questions or comments about the consignment process, any of the auction lots, any of the Winnipeg books or about the July 1970's & 80's Marvel Winnipeg Auction in general, please contact Mr. Schmell at (561) 422-1120 (office) or (561) 596-9111 (cell) or at [email protected]. For any financial related and consignment payment questions, please contact their CFO, Lisa Shapiro, at [email protected] and for any technical related questions or concerns, please contact their Web Master at [email protected].
Related news
30 Sep 2023
New Vintage and Modern Marvels in Pedigree Comics' October Marvel Grand Auction!
​According to Pedigree Comics' CEO and President, Doug Schmell, his company's upcoming October Grand Auction will feature many brand new CGC certified Marvels from the Silver and Bronze Ages as well as a few from the Copper Age.
Read more
16 Sep 2023
Comics, Toys, Political Items, More in Hake's Online Auction
Hake's Auctions newest online exclusive auction is now open for bidding and covers a large array of collecting focuses spread out over 2,700+ lots. The auction is filled with comics, political material, action figures & toys, video games, art, VHS & more
Read more