The Addiction Premieres at New York Comic Con: Exclusive Andres Labrada Cover Reveal!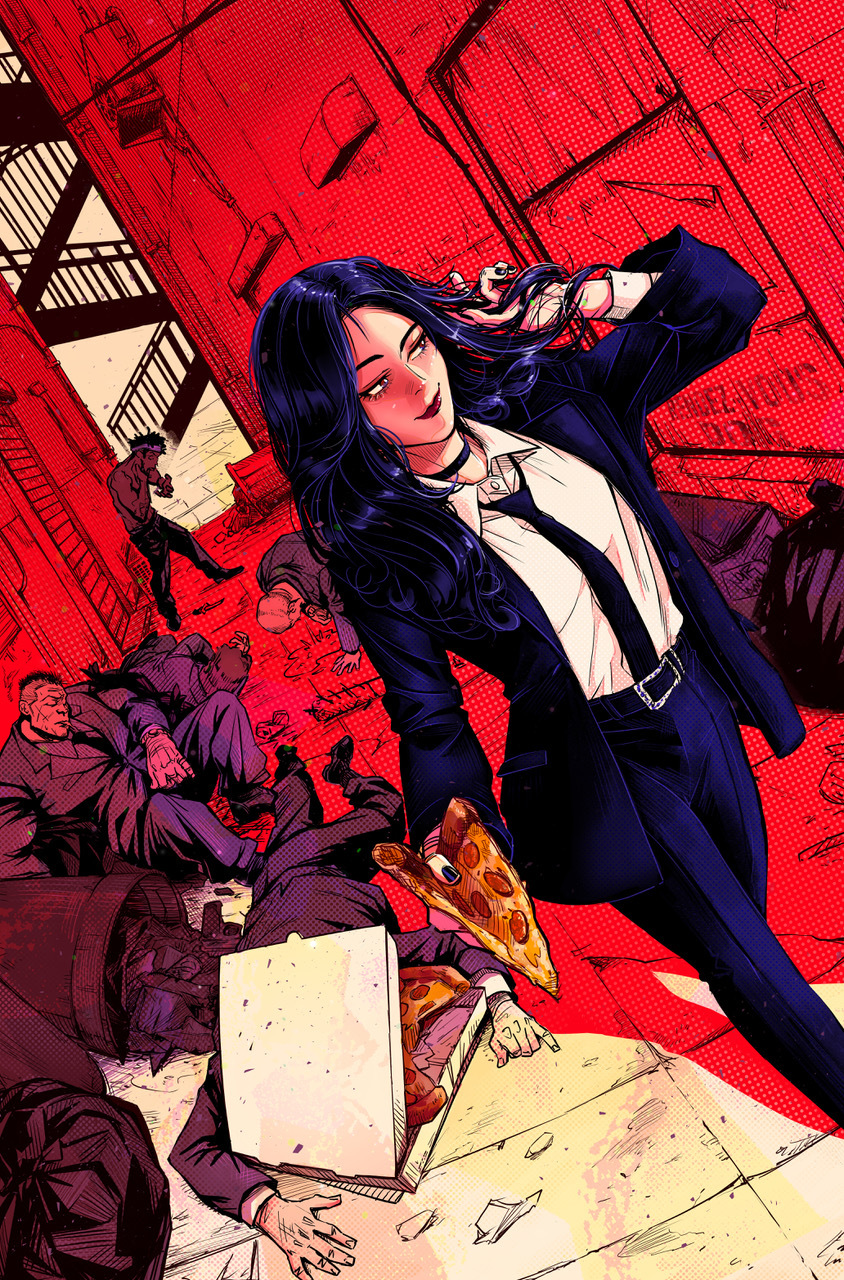 Come meet Vincent Zurzolo, David Quinn, Claudia Balboni and Team Addiction at The Addiction Booth #3537 at New York Comic Con, October 12-15!
Don't miss your chance to own any of several variant cover editions of the first issue of this bold new series, launching at NYCC!
The Addiction: A doctor dedicated to treating addiction harbors a strange, dangerous secret – she can drug you with just her touch.
Allied with her lover – a union she's conflicted about surrendering to – she risks whatever it takes to be the cure in a sick, sick world. Up against drug cartels, corrupt organizations and a wild gallery of colorful criminals, the stakes are high – but she will use drugs to fight the destructive slavery of drug addiction, becoming the hero we need right now.
Co-creator / Writer Vincent (Metropolis Comics, ComicConnect.com) Zurzolo offers an introduction, "If you had a second chance at life, What would you do? Dr. Niki Tino, a workaholic driven to fight addiction, became so successful at helping people find recovery that a local drug cartel kidnapped her and shot her up with a cocktail of drugs 'to put her out of business.' The withdrawals, the highs and lows a drug addict with a lifelong addiction goes through, Niki experienced it all in one night. She died… and was reborn, chemically altered, to step up her war on addiction with stunning new chemical powers she must learn to master – her second chance."
Writer / Co-creator David (Faust, Dr. Strange) Quinn adds, "Comic book heroes stereotypically wrestle with chaos on a cosmic scale. We find it interesting and valuable that Niki and her man Enzo fight a very real, down to earth problem, and man-made plague –addiction. Niki's strange powers spiral her into the darkest places humans can go, mentally and physically, but when she stands up for the chance of recovery for all of us, Niki finds hope. But her every win triggers all forces against her to escalate their deadly game. So anything can – and will – happen."
Eisner Award nominated artist Claudia (Killer Queens, Fairlady) Balboni illustrates, bringing her elegant visual gifts for action, humor and human drama to play. "Claudia has already earned a reputation for her beautiful art," says Vincent, "But her dramatic and nuanced storytelling on this story rocks."
David adds, "Colorist Brad (Stray Dogs, Local Man) Simpson's colors paint the surface of the story in modern, slick tones – but when drama veers into darkness or altered states of hallucination, his colors explode to an emotional level – it is 'transportational.' And letterer Dave Sharpe, a seasoned pro, helps us voice the characters and their story with personality, style and flair. We are so lucky to have this team."
The first three issue series will also offer a stellar gallery of top illustrators, including Andres Labrada, David Mack, Artgerm, Amanda Conner, Alitha Martinez, Robotcat, Claudia Balboni and Tim Vigil.
The Addiction is intended for teen and adult readers and contains illustrated depictions of substance abuse and comic book violence.
THE ADDICTION Copyright © 2023 Zurzolo & Quinn, LLC. All rights reserved. Published by Zurzolo & Quinn, LLC, 36 W. 37th St. 6th Floor, New York, NY 10018.
A website dedicated to the series will go live after NYCC at https://theaddiction.co
For media inquiries, contact: [email protected]
For sales and licensing inquiries, contact: [email protected]
Meet Team Addiction!
Vincent Zurzolo. Creator/Writer
is President of Metropolis Collectibles, the world's largest dealership for vintage comics and auction house ComicConnect.com. Fascinated by comics since he was a boy, Vincent started dealing in comics at 15. Graduating from St. John's University, he sold comics on the streets of Manhattan with his eye on becoming the biggest comic dealer in the world. In 1999, he merged companies and achieved that goal. Throughout his career Vincent has been a comic dealer, auctioneer, tv producer, radio show host, convention promoter and Guinness World Record holder as the first person to sell a comic for a million dollars. He is a media spokesman for the comic market, having appeared on countless tv and radio shows, newspapers, magazines, and social media. Vincent always dreamed of creating a comic book. Now, with writer David Quinn, Claudia Balboni, and the rest of the team, he's proud to present The Addiction!
David Quinn. Writer/Creator
creates content for comics, film and theater, including Go to Sleep, Little Creep (Crown Books for Young Readers), The Littlest Bitch (Sellers) Not for Children Children's Books (Sirius) and I Sing the Moon (Rocketboots!) David's best known for the Nightvision, 777: The Wrath and Faust horror franchises. Brian Yuzna directed the feature Faust: Love of the Damned (Filmax/Lions Gate 2000) based on his screenplay. A deluxe complete Faust Omnibus Hardcover haunts comic shops in October 2023.
Other stories include Marvel's Doctor Strange, Midnight Sons and Carnage, Vampirella (Harris), DC's Phobias, Lady Death (Chaos!) Aliens/Predator (Dark Horse) Ascension (Top Cow) and even The Amazin' Mets (Ultimate Sports). Marvel reprints of David's stories include Absolute Carnage (2021), Carnage, the Epic Collection (2023), Doctor Strange: Afterlife (2021), Doctor Strange: Nightmare on Bleecker Street (2023),and Doctor Strange, Sorcerer Supreme Omnibus, Volume 3 (2022). David blogs at inwalkedquinn.com.
Claudia Balboni. Illustrator
one of the most exciting visual storytellers working in comics today, Claudia's Eisner-nominated work on Killer Queens (Dark Horse) is winning a dedicated fan following and has been recognized by The New York Times, the Glaad Media Awards, the Remmi Awards ("Best LGBTQ+ Series") and the Gayming Awards. Of her art on Killer Queens, Panel Patter said, "This is how you do comics. This is about as fun as they possibly get."
Other comics she's illustrated include Fairlady (image), Star Trek: The Future Begins and True Blood: The French Quarter (IDW). Along with the launch of The Addiction, watch for her work in a secret project coming from Dark Horse. A graduate of the Academy School of Comics, Claudia lives and works in Rome, Italy.
Brad Simpson. Color Artist
is an American comic book colorist based in Ashland, Oregon. In addition to gracing the pages of many Marvel Comics titles such as Deadpool, Vengeance and The Amazing Spider-Man, Simpson's stunning color choices have also proved invaluable in breathing life into such titles as the long running Bloodborne, Stray Dogs, Coffin Bound and the current acclaimed series Local Man.
Dave Sharpe. Letterer
graduated The Joe Kubert school in 1990 and went directly to the Marvel Bullpen Staff. He went freelance in 2003, moved to PA, and currently works for DC (Action Comics 5 years running), Bad Idea, Bad Egg, Mad Cave and Dynamite. Happily married, with 2 grown kids, Dave plays bass in multiple performing bands.
Related news
30 Sep 2023
The Addiction Premieres at New York Comic Con: Exclusive Andres Labrada Cover Reveal!
Come meet Vincent Zurzolo, David Quinn, Claudia Balboni and Team Addiction at The Addiction Booth #3537 at New York Comic Con, October 12-15! Don't miss your chance to own any of several variant cover editions of the first issue.
Read more
27 Jan 2023
ComicConnect Sets New Action #1 Record
ComicConnect announces one-of-a-kind Action Comics #1 "Rocket Copy" selling for a record $3.55 million
Read more